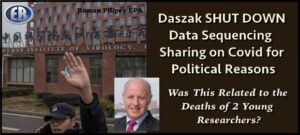 ER Editor: See also this related piece we just published –
******
We remind readers that we published this on May 18, 2020:
April 2, 2020 and May 2, 2020, curiously just a month apart, were the respective dates of their deaths. No reason for Taylor's death was given; Dr. Liu improbably died from a gunshot wound, allegedly. As the Robert Bridge article explains, the lack of genomic data being shared about Covid-19 was a source of much frustration to these and other researchers. Information relevant to the article below on Dr. Peter Daszak of EcoHealth Alliance comes from April, 2020. 
This is what this article has to say on James Taylor's unique contribution to his field:
Taylor was one of the founders and developers of the Galaxy Project in 2005. The platform allowed scientists to better understand genomic and epigenomic activity across individuals and species without every researcher needing to learn computer programming. Galaxy is now used to analyze bioinformatics data with increased accuracy and reproducibility in many fields, ranging from drug discovery to ecology, and has been used in nearly 9,000 scientific publications, according to its website.

Since the onset of the SARS-CoV-2 pandemic, Taylor used his Twitter account to speak out on the need for shared genomic data and criticize the lack of proper supplies for those working on the front lines.
Would these deaths have constituted the ultimate warning to many researchers interested in making this genomic data public?
********
Virus Hunter Peter Daszak Wanted to Keep COVID Sequencing Data Hidden From Public
EcoHealth Alliance President Peter Daszak opposed the public release of COVID-19-related virus sequence data gathered from China as part of the U.S. Agency for International Development's PREDICT program, according to emails obtained by U.S. Right to Know.
Miss a day, miss a lot. Subscribe to The Defender's Top News of the Day. It's free.
The conversation in late April 2020 involved employees of EcoHealth Alliance, a nonprofit that has received millions of dollars of U.S. taxpayer funding to genetically manipulate coronaviruses, including with scientists at the Wuhan Institute of Virology —  and Metabiota, a San Francisco-based biotechnology company backed by Google that works with PREDICT, a "virus hunting" program that tracks unknown viruses.
Tammie O'Rourke of Metabiota emailed Hongying Li, who coordinates EcoHealth programs in China and Southeast Asia, an attachment with virus sequences detected in China that had been submitted to the public genetic sequence database GenBank. They then discussed whether the genetic sequences should be uploaded into the public database.
Hongying Li wanted to hold off on uploading the virus sequence data for several reasons, including that, "due to the COVID-19, any relevant data publication needs to be reviewed and approved by the institution in China …"
Daszak then wrote:
"It's extremely important we don't have these sequences as part of our PREDICT release to Genbank at this point. As you may have heard, these were part of a grant just terminated by NIH."
He referred to an article in Politico, "Trump cuts U.S. research on bat-human virus transmission over China ties," and urged holding off on public sharing of Chinese viral genomic data, even though the generation of the data was funded by U.S. taxpayers.
"Having them as part of PREDICT will being [sic] very unwelcome attention to UC Davis, PREDICT and USAID," Daszak wrote.
The emails were released as part of a California Public Records Act request to UC Davis. They do not contain attachments and so the actual viral sequence data are not included in the information received by U.S. Right to Know. It is not known whether the data referred to in the emails are still embargoed or were subsequently shared on GenBank.
EcoHealth Alliance denied that any sequences were kept out of GenBank. In response to a query, Daszak emailed an August 2020 Nature Communications article co-authored by EcoHealth and Wuhan Institute of Virology scientists, and wrote:
"All sequences of SARS-related coronaviruses discovered by EcoHealth Alliance in China were sequenced using NIH funding and have been made public in peer-reviewed scientific papers and via the publicly available Genbank database. The Genbank accession numbers for over 600 sequences can be found in the attached paper. Two further sequences were identified and submitted separately to NIH on 11/18/21  (Genbank Accession # OK663614 & OK663615)."
Originally published by U.S. Right to Know.
Published to The Liberty Beacon from EuropeReloaded.com
Virus Hunter Peter Daszak Wanted to Keep COVID Sequencing Data Hidden From Public