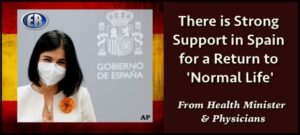 ER Editor: We're hoping Macron and Draghi get the memo.
The Spanish report, cited below, put out by a large Spanish association of general practitioners, begins as follows:
The turn of the year is marked by the sixth epidemic period of COVID-19 in Spain. This wave has been different from all the others: the arrival of omicron is leaving a large number of infections with maximum incidence levels, but with few serious cases in relative terms. According to data from the Carlos III Health Institute, currently half of the infections detected are asymptomatic and hospitalization and death indicators are at historic lows 1 . This is due in part to the lower intrinsic pathogenicity of omicron compared to previous variants, and also to its greater ease in infecting people with previous immunity (by infection or by vaccination) and who, therefore, present a low risk of severe disease.

The low frequency of serious illness, together with the saturation of both Primary Care and Public Health due to mild cases, should lead us to rethink how to deal with the pandemic from now on. From the Editorial Committee of AMF we want to contribute to this debate based on five key ideas.
********
Spain proposes to "return to normal life" and treat Covid-19 like flu
FRANCE SOIR
Despite Omicron's high incidence rate, which is pushing up infection figures around the world, its low virulence is challenging the 'all vaccine' strategy and giving hope for a return to normal life. A little music is beginning to be heard everywhere. After Denmark and the United Kingdom (ER: See this report from the UK's Daily Sceptic, Covid Passes to be Scrapped Within Two Weeks), it is now Spain's turn to speak out.
"Towards the end of exceptionality"
A recent editorial in AMF (Actualizacion en Medicina de Familia), the mouthpiece of semFYC, one of the three major associations of general practitioners in Spain, was entitled "Towards the end of exceptionalism". The message is clear: "SARS-Cov-2 is not going to disappear" and we have to learn to live with it. While promoting vaccination for vulnerable people, the association warns against incessant booster doses and assures that "vaccinating the entire population, including children and people at very low risk, will not prevent the virus from circulating." "It is to be expected that we will all become infected repeatedly through repeated contact with the virus, and that this will improve our individual and collective immunity," it says.
In short, let's not be afraid: "It is essential to restore the old normalcy (without masks or limitations on social interaction), focusing efforts on protecting the most vulnerable." (ER: Wasn't this the essence of the Barrington Declaration?)
The author also stresses the climate of anxiety and deplores the guilt that has resulted:
"Record numbers of infections are being broadcast live, without mentioning that half of them are asymptomatic… Fear is often associated with guilt. Catching or spreading a respiratory virus is nobody's fault."
He concluded:
"Covid-19 should be treated like any other disease. Acquired immunity and the advent of the Omicron variant make this possible.
Opening discussions with European partners?
Spain's Health Minister Carolina Darias wants a change of strategy and is calling on the European Centre for Disease Prevention and Control (ECDC) to "open up new horizons". According to her, given that the vast majority of infections are asymptomatic and that only people already at risk are hospitalised, "the same surveillance system as for influenza is needed."
While not all doctors and epidemiologists agree with this analysis, Les Echos reports that "some Spanish regions have started to move forward in this area, and that the National Epidemiology Centre has already prepared a pilot plan that could mark the end of systematic testing."
************
Published to The Liberty Beacon from EuropeReloaded.com
Spain Proposes to "Return to Normal Life" and Treat Covid-19 Like Flu