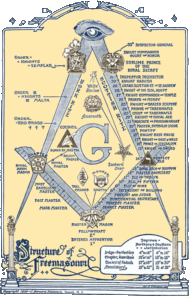 All secret societies worship Lucifer and their aim, is to destroy the earth and humanity.
They promote pseudo religion, to keep the masses under control. Why else would they have installed Pope Francis in the Vatican? He is openly a Mason and yet, performs ceremonies in a charade that support Christianity.
The key to understand, is that the symbolism of the Masonic "all seeing eye" is Lucifer. The pyramid printed on every dollar bill, denotes the Freemason structure with Lucifer at the top! The symbolism of "To divide and rule" has a Masonic compass which stands for the divider and the Masons' square represents the ruler, it also puts Lucifer at the top!
The purpose of Luciferian engineering, is to destroy the earth and end civilization.
LUCIFERIAN ENGINEERING:
SOCIAL engineering is to destroy the family and society;
FINANCIAL engineering is to control commerce and incorporate wealth;
GENETIC engineering is to sever the link between heaven and earth;
MILITARY engineering is to destabilize countries;
LEGAL engineering is to accumulate political power and control the people;
BIO-engineering is to destroy and impair the natural immune system;
CYBER engineering is to create a megaverse based on unreality.
From the above, it is beyond evident that Luciferian engineering is incapable of providing anything that will benefit humanity.
PERFECTION CANNOT BE IMPROVED UPON:
The SUN, FAMILY and GOLD are nature's binary! The sun, family and gold assure the complete freedom and well being of every person on the planet.
Without any need for a power elite's hierarchy system and control over the issue of money, that impose bureaucratic fear and give monstrous favors to a few. The SUN, FAMILY and GOLD are absolute, self sufficient and objective, they do not require human laws or conventions!
The SUN assures a prolific ecology and ample healthy foods. The FAMILY and family values assures a civilized society with like minded good company. GOLD/silver held in the treasury to back the currency, is sovereign wealth that belongs to the people. When properly valued it naturally assures they have equitable and unlimited commercial opportunities.
In terms of human health, wealth and happiness, with such perfection all Homo sapiens prosper without the encumbrance of Luciferian engineering ideology!
Secret societies are waging a war for the souls and future of humanity, that means you have a soul choice to make. The corrupt need to be held to account and restitution of wealth needs to be made. All institutions that are engaged in genetic engineering, social engineering, financial engineering, pharmaceutical engineering, legal engineering, cyber engineering, geo-engineering and military engineering need to be dismantled.
To discover knowledge that will shape the future, visit purposeofscience.com