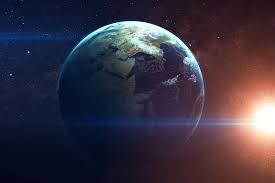 The Universe is a sphere, which means all motion is circular. The ILLUSION that motion is linear has meant that for millennia, the basis of our understanding is incorrect and with it most of the models or ideologies we use.
"From which it seems to me one may reasonably conclude that for the maintenance of perfect order among the parts of the universe, it is necessary to say that moveable bodies are movable only circularly; if there are any that do not move circularly, these are necessarily immovable, nothing but rest and circular motion being suitable to the preservation of order."  –  Galileo
Planetary orbits create macrocosmic energy.
In its cyclical orbit around the sun, the Earth moves at a speed of 66,627 miles per hour and takes about 365 days to travel 584 million miles! The Earth's orbit around the sun, creates four different energy seasons. The energy of spring, summer, autumn and winter dictate the ecology and a myriad inhabitants respond to seasonal changes.
In electricity, the active or live current needs to have a passive or a neutral to provide electric voltage! Macrocosmic energy circulated by the orbiting planets, is the active or live force! Microcosmic energy circulated by the terrestrial forces, is the passive or neutral! 
The macrocosmic and microcosmic strands of energy are yin and yang, heaven and earth, active and passive! These two strands of energy combine to create and perpetuate all life on the planet.
Orbits also provide the measure of time:
The orbit of the Earth around the sun gives us a year;
The orbit of the moon around the Earth gives us a lunar month;
The rotation of the Earth on its axis gives us a day and night.
– Copernicus "On the Revolution of the Heavenly Spheres"
When regard to personal development, the macrocosmic energy circulated by orbital movements provide astrological energy patterns that we have yet to fully understand. For example, people born in different years or at different times of the year, exhibit certain traits or characteristics!
The most important astrological or macrocosmic event, has occurred and most humans are completely unaware. Like the magician who creates an illusion of chaos, people are being distracted by their leaders, the media and vested interests.
On December 28, 2020, we exited the two thousand year cycle of the age of Pisces or fish and entered the enlightened age of Aquarius. The age of Aquarius will last in excess of two thousand years.
Aquarius which has an avatar or symbol of waves, is described by astrologers as the age of knowledge and freedom. When as their rightful heritage, humanity take control of the Earth and their own destiny!
Due to ingrained indoctrination and subservience to a belief in linear motion, you can search every book or article written and perhaps never find the following astounding observable information:
"THERE ARE NO STRAIGHT LINES IN NATURE" This observation is all the more incredible, considering that billions of Homo sapiens have been around for thousands of years and the evidence is everywhere. The Universe has no exceptions, the binary of everything corresponds to a sphere and everything has a natural recurring cyclical movement!
Every natural shape from seeds, leaves, feathers, fruits, plants, insects, animals, fish, birds, humans down to a pebble on the beach has a degree of curvature. The circular law of nature is so precise that to draw a perfect straight line, requires a rule or another mechanical device. Whether we throw an object, or lift a cup to drink from, it always moves in an arc. Everywhere we look there are natural cyclical movements.
From the planets that continually rotate around the sun, the seasons that recur ad infinitum, the tides, day and night, the inhalation and exhalation of our breath, eyelids, heartbeat and all other bodily functions. Everything corresponds to a sphere: our eye sockets, jaws and body joints are curved so that they can move circularly, sound moves in waves, etc! When it comes understanding the wonders of nature "You cannot teach a person anything, only help him to find it within himself."   – Galileo
What if we do not need corporate governance where a few gain enormous benefit from waging a never ending war on the innocent? What if we do not need corporate owned pompous politicians or misleading media and we do not need central banks with despicable debt finance? With the naturally prolific ecology, the social role of the family and refined golden economics, the world can and will easily thrive without them. 
It is not a coincidence that the sun, the moon, our planet and its rotation are spherical. Take a seed and you will find that it has a spherical shape. Place it in fertile soil with a good aspect and it will inevitably produce a plant with leaves, stem and roots that have a curvature shape. The plant will produce a crop which will inevitably contain multiple more seeds and these in turn, can be planted in fertile soil to continue this extraordinary prolific cycle of plant life ad infinitum. When all life is a cycle, it means that humans, animals, birds, insects, etc., will also perpetuate in their own way.
This is science and strange as it may seem at first, it is at odds with our belief. We do not consider the circle of life. If we did, then we would be dealing with fact and have no need for beliefs. It should come as no surprise to find that our beliefs create ideologies and they are unscientific nonsense. Every ideology requires an executive and this bureaucracy imposes the tyranny of countless rules, laws and regulations which remove our freedoms, while on the other hand they provide monstrous favors to a few. Living in an interconnected sphere, we have absolutely no need for ideologies. We have the sun to provide perpetual sustenance and vitamin D for our immune system, the family to provide a society with stable social values, plus gold as wealth in the treasury along with silver to finance a system of equitable prosperity.
To discover knowledge that will shape the future, please visit purposeofscience.com