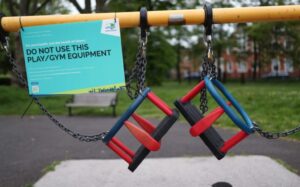 Telegraph columnist Allison Pearson has written a cracking column in which she recalls how she was pilloried for being a lockdown sceptic, but increasingly her opponents are admitting she was right.
At the end of the Second World War, Gaullists and Communists insisted that the majority of the French people had played a part in the Resistance. Actual figures for those who actively opposed the Nazis vary between 400,000 and 75,000. Something not entirely dissimilar is happening now as the Government prepares to lift Plan B restrictions next week, and fervent advocates of lockdown try to distance themselves from its dire consequences. Scientists whose mathematical models persuaded anxious ministers to impose drastic restrictions on human freedom not even seen during the Blitz are suddenly keen to emphasise that these were merely worst-case "scenarios", not something on which you'd want to base actual policy.

Did they mention that at the time, I wonder? Or has the Eddie-the-Eagle reliability of their predictions given rise to a certain hasty revisionism? Sorry, that's unfair. Eddie the Eagle never predicted up to 6,000 Covid deaths a day this winter (actual number: 250).

Michael Gove, the Cabinet's most hawkish lockdown supporter, admitted last week to the 1922 Committee of Tory MPs that he was a "bedwetter" who got things badly wrong (unlike Boris) when he called for further restrictions over Christmas. Wes Streeting, the shadow Health Secretary, now says that we must never lock down again without explaining why the useless, No-opposition Opposition party not only failed to challenge any of the destructive rules, but continually called for them to be stricter.
She recounts some of the insults thrown her way by the guardians of lockdown orthodoxy.
When the Resistance dared to suggest that some lockdown measures were disproportionate, crazy and unsupported by science, let alone common sense, we were reviled. That is no exaggeration. I regret to say your columnist was called, in no particular order, a Covid denier (I nursed my entire family through the virus), a granny killer (I didn't see my own mother for 18 months) and a spreader of disinformation. When I protested on social media that putting padlocks on the gates of playgrounds was a terrible idea, back came a fusillade of vicious accusations: "You want people to die!"
With the help of her Twitter followers she has compiled a list of 50 of the most lunatic pandemic measures – "Lest we forget." A taster.