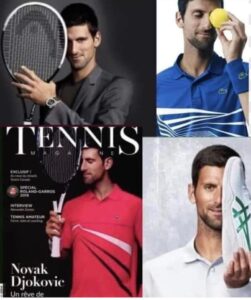 I am sure Miles Mathis did a piece on him, though I haven't found it yet (now I have)…with him having aristocratic/royal background – and being very similar in looks to Nicola Tesla, with occult significance.
It looks like it's all pre-planned media theatre to wreck a great sporting event and divide and rule vaxxers and anti-vaxxers.
And to drag Australia's reputation down.
Extract from Miles Mathis article on Dunblane –
Which leads us to ask Geni who Andy Murray is. . . and they won't tell us.
His father is hidden, and
his mother is given no parents.²
Just what we expected.
But we have seen that Andy must not only
be in the peerage, he must be high up. He may have a title beyond "Sir". Why else would they
knight an effing tennis player? As with Mick Jagger, it can't be explained until you realize these
guys were from the peerage to start with. They weren't knighted for music or sport, they were
knighted for being famous crypto-aristos, and because they asked for it.
They wanted to be tapped by the queen, so they were.
But given my research on Tiger Woods, it leads us to another question:
did someone take a dive so that Andy Murray could win Wimbledon, etc.? Otherwise, I never could
understand it.
He beat Djokovic in straight sets in 2013? What?
Curiously, Murray also won in straight sets at the 2012 Olympics in . . . London. Couldn't have been scripted better, could it? (V Federer TAP)
I have no proof these matches were thrown, of course. I just point out the possibility. It is known
matches have been thrown at the highest levels ³ ,so who knows? If Andy would lie about
Dunblane, he is down for anything.
If you find that shocking, your eyes simply aren't open.
The first time I saw Andy Murray, I thought
he was a creep. He just has that look. That smug, entitled, no-smile, dead-eyed persona that no one
will miss when he retires.
He may have thought he was entitled to win Wimbledon as well. We
have seen stranger things. Regardless, never will a "champion" be sooner and more justly
forgotten. You just have to wonder how and why such people are ever forced down our throats as
important. Tennis? Really? Hitting a little fuzzy ball over a net over and over and over and over?
That's important? That's worth millions of dollars and front-page coverage?
www.mileswmathis.com/dunblane.pdf
This BBC story from 2016 admits Grand Slam winners are involved, but won't name them. It also admits
the ATP is looking the other way. It also admits TIU, Tennis Integrity Unit, is a sham. All I can say is, watch
Murray's 2013 Wimbledon match against Djokovic and come to your own conclusion. I have. Look
especially at Murray's awful high-bouncing second serve, moving about 75mph—by far the slowest and
worst at that level of tennis. Djokovic should be blasting that thing for an immediate winner every single
time. But he almost never does. He only does so once or twice, when he is fed up with Murray's game and
demands that Murray at least make a show of it.
For instance, in the last game of the match, Djokovic
throws the first three points, letting Murray get to 40-0. But then he tightens up, asking Murray to win at
least one point honestly. Djokovic blasts one of Murray's second serves off the court with disgust to win one
of the points. So why wasn't he doing that before?
Does that mean Raonic's 2016 Wimbledon loss was also a throw? I would say so. Raonic should have
beaten Murray in his sleep that year, but he does seem like the perfect choice to take a dive. Clearly
Djokovic didn't want to be picked for that role again, which would explain why he bowed out earlier to Sam
Querrey. Federer and Nadal also didn't want that role, which may explain why both guys fortuitously missed
most of the year with injuries. I would say they got the Murray memo early that year, and decided the injury
story would be preferable to throwing matches to Murray. This would explain the strange events of later that
year (and early 2017) as well, as everyone was instructed to lay down so that Murray could advance to a
number one ranking. How else to explain Djokovic's strange loss to Istomin in Australia?
It looks to me like Djokovic was refusing to throw any more matches to Murray in person in those months, but pressure was
applied to him to lay down one way or another. And remember, Raonic is the one that withdrew from the
Paris Masters in a convenient fashion, allowing Murray a walkover in the semi-finals, just in time to take the
number one ranking from Djokovic. In fact, this theory explains a lot of the strangeness of the past few
years on tour, which is only now dissippating.
Once Murray got his two Wimbledons, two Olympic golds,
and a number one ranking, he pulled back, allowing things to get somewhat back to normal.
Or almost normal. Remember how Murray pledged his 2017 Queens prize money to the victims of the
manufactured Grenfell Towers fire, only to lose in the first round? You have to laugh.
So why do I say Raonic was the perfect pick to lay down for Murray? Because Raonic is a Serb whose uncle
was Deputy Prime Minister of Montenegro. His surname is Gvozdenovic, which links Raonic to General
Anto Gvozdenovic, d. 1935, of the Russian Imperial Privy Council. The Gvozdenovics were Princes of
Montenegro, and we may assume they still are. They are very wealthy, and Raonic was living in Monte
Carlo even before he starting making money on tour.
His ancestor General Prince Anto Gvozdenovic was
[General of the Cavalry] von Rennenkampf's righthand man and General-Leader during the RussianJapanese War (1904), but somehow survived the Russian Revolution. So, like the Murrays, the
Gvozdenovics/Raonics are nobility, closely linked to the Kings of Russia and England—who are likewise
closely linked. The Murrays are near relatives of the Queen, and the Gvozdenovics were near relatives of
Nicholas II—which is why they were Princes. All the royalty of Europe is related, and always has been. So
Raonic was simply instructed to step aside temporarily for his cousin, I assume.
But could the same be said of Djokovic and others on the tour? Possibly, since Djokovic has a page at Geni
but it is completely scrubbed. Famechain tells us his grandfather Zdenka Zagar was a "high-ranking officer"
in the Yugoslav Army, but we aren't told if that was colonel or general or what. Plus, even that looks like a
fudge, since Zdenka is a woman's name. Djokovic's grandparents couldn't have been Zdenka and Elisabeta.
However, Djokovic may be related to Zoran Zagar, a top banker in Belgrade who became Deputy Executive
Director of the World Bank in the late 1960s and Executive VP of the International Finance Corporation in
London in the early 1970s. Also see Joze Zagar, head of the Slovenian Railway and later General Manager
of Smelt. Also see Ivan Zagar, CEO of Prebold Textile Factory.
You may also consult this 2016 article, which admits the ITF allows gambling agencies to sponsor major
tournaments. The article calls it "intriguing", but surely that isn't the correct adjective. This should be a sign
of how utterly compromised professional sport is.
From Miles Mathis pieces on Dunblane.  www.mileswmathis.com/dunblane.pdf