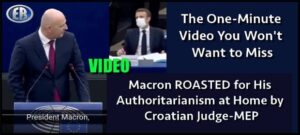 ER Editor: This deserves publication all by itself. Croatian MEP and former judge Mislav Kolakušić gives a short tongue-lashing to Macron for his utter hypocrisy and tyranny. See the short (1 minute) tweeted video below. He says obligatory vaccination  (imposed on the French) is the equivalent of the death penalty Macron is so proud that Europe doesn't have. This guy has checked the Covid vaccine adverse event/death statistics with the relevant European agency.
"Don't do for Europe what you're doing in your own country" is the clear and unequivocal message.
Kolakušić has his own website, which Google will translate for us into English – https://mislavkolakusic.eu/ The titles of posts, speeches and commentaries on this page suggest he sees the open borders policy on mass migration into Europe as harmful to local workers, and how the vaccinated have been given a licence to spread Covid, among other things. He's clearly not part of the woke, globalist crowd. The CV on his website gives him independent status as an MEP.
***
France has now taken on the rotating presidency of the Council of the European Union for six months, and Macron got publicly heckled as soon as he set foot in the Strasbourg building to give an inaugural speech this past week. See
***
This is Kolakušić 's pinned tweet on his Twitter account:
HERE'S THE KILLER PUBLIC COMMENT —
************
Published to The Liberty Beacon from EuropeReloaded.com
Croatian MEP & Former Judge Publicly Blasts Macron in Parliament To His Face and It's a Doozy