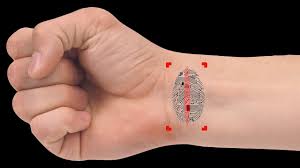 Also known as the 'Quantum Dot Tattoo' with the capability to affix a QR code with luciferase ink. AKA Mark of the beast.
ID2020 – is an initiative from a consortium of corporations that are seeking to introduce a new global form of Vaccination Identification through the injection of a 'digital tattoo' 'micro-needle array (patch)' with invisible luciferase ink. Producing in the skin a unique 'QR like' scanable code to identify a person and their health record. This has been also called the 'mark of the beast'
Given at the time of issuing a vaccine, the injection site may be scanned with a smartphone to see if the vaccine has been administered. The micro needles can be adjusted to provide a unique tattoo structure similar to a QR code. Consideration is being given to using this as a form of ID and for linking into payment technologies. Corporations which sponsor this project include Microsoft, Accenture and Gavi (the Vaccine Alliance), Mastercard and Bill Gates.
A company called Vaxxas is setting up manufacturing facilities in Queensland Australia to start deploying this technology.
Links:
ID 2020 Digital Identity Alliance – https://id2020.org/
Vaxxas (Australia) – https://www.tri.edu.au/Vaxxas
Vaxxas – https://www.vaxxas.com/
Micro needle array – https://www.ncbi.nlm.nih.gov/pmc/articles/PMC7276250/
Progress in Micro Needle Array patch for Vaccine Delivery – https://pubmed.ncbi.nlm.nih.gov/32667239/
An Invisible Quantum Dot 'Tattoo' Could Be Used to ID Vaccinated Kids – https://www.sciencealert.com/an-invisible-quantum-dot-tattoo-is-being-suggested-to-id-vaccinated-kids
ID2020 – Vaccination Identification Patch Technology is now being deployed in Australia from 'Vaxxas'. Also known as the 'Quantum Dot Tattoo' with the capability to affix a QR code with luciferase ink. AKA Mark of the beast.
by inconspiracy