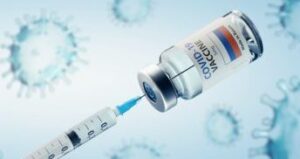 World Health Organization European Advisory Group of Experts in Immunization former Vice President Professor Christian Perronne said that all vaccinated people must quarantine over the winter months or risk serious illness.  Perronne was the Chairman of the Specialized Committee on Communicable Diseases of the High Council of Public Health.
Confirming the rapidly deteriorating situation in Israel and the United Kingdom, the infectious disease expert stated: "Vaccinated people should be put in quarantine, and should be isolated from the society."  He said the vaccinated need to isolate to prevent severe illness over the winter months.
Israeli doctor Kobi Haviv told Channel 13 News: "95% of seriously ill patients are vaccinated. Fully vaccinated people account for 85-90% of hospitalizations. We are opening more and more COVID branches. The effectiveness of vaccines is declining or disappearing."
Are The Unvaccinated Really Filling Up Hospitals?
He went on to say: "Unvaccinated people are not dangerous; vaccinated people are dangerous for others. It's proven in Israel now – I'm in contact with many physicians in Israel – they're having big problems, severe cases in the hospitals are among vaccinated people, and in UK also, you have the larger vaccination program and also there are problems."
Cases of Vaccine-Induced VAIDS on the Rise Due to Mass COVID Vaccination
Comparison of Official Government Reports Suggest Fully Vaccinated Are Developing Acquired Immunodeficiency Syndrome
All of this is showing these "vaccines" are far from safe or effective.
COVID-19 mRNA Shots Are Legally Not Vaccines
This is not the first surge in cases among the "vaccinated" either.
COVID Surge In Belgium: "They Are All Vaccinated"
This statement is in bold contrast to that of Kristiaan Deckers, the medical director of the Antwerp GZA. "The profile of our intensive patients?", says Deckers. "They are now all vaccinated with breakthrough infections. Relatively young people aged 55 to 60, quite a few with immune problems. But we also see several seriously ill younger people, aged 30 to 35. So the question is whether the vaccines still work as well." -SHTFPlan
What Is the True Vaccine Breakthrough Rate? The CDC Doesn't Want You to Know
All we know is that we are being lied to. We can sense it. Whether this is some new and scary coronavirus, made in a lab, intentionally released, or doesn't exist at all doesn't even matter anymore.  The rulers have been shown that all they have to do is tell the public there's a scary virus out ready to get them, and the sleeping masses will do whatever the master commands in order to stay safe. The problem we are now facing is that the cure was obviously worse than the disease and we may pay a heavy price for not figuring it out sooner.
https://www.shtfplan.com/headline-news/former-who-official-warns-on-vaccines-the-vaccinated-should-quarantine-or-risk-serious-illness