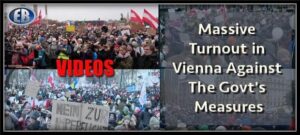 ER Editor: Official estimates of public protests notoriously underestimate the real number of people pounding the pavements. This end-of-day report by Austrian site Wochenblick put the number of attendees at over 100,000, with a contingent travelling into Vienna for the day.
***
We remind readers that, without any obviously plausible reason, Austria's latest chancellor, Alexander Schallenberg, stepped down and the former one, Sebastian Kurz, having already left office on some minor corruption pretext, just retired from politics altogether. In addition, the finance minister Gernot Bluemel also quit on some flimsy family pretext hard on the heels of Schallenberg. Let's see how former minister of the interior, pro-Covid-vaxxer Karl Nehammer, fares.
***
Here's what Wochenblick.at was reporting about the protests in Vienna yesterday:
Tens of thousands are on the streets of Vienna again today. They are standing up against the coming compulsory vaccination and want to stop it with all means of peaceful protest. People from all walks of life and age groups are protesting.

Mothers appeal: "Protect our children – children out of schools!" The state presents itself as repressive from the start. Penalties for not wearing masks were imposed. The rally at Heldenplatz even had its electricity cut off. At this hour, the masses are setting off for the march across the Ring.

The lawyer from the Ministry of Defense, Monika Donner, gave an incendiary speech against the lies of the government. The civil servant has already been dismissed because of her resistance. She asked the demonstrators who knew anybody dead from Corona. About 20 people were pointed out. Then she asked how many would know people with vaccine injuries. Hundreds of hands went up. And that, she said, is exactly what studies on the subject also reveal. The FPÖ politician Dagmar Belakowitsch, as a trained medical doctor, is particularly committed to the resistance and is appreciated by it. Again, she also spoke at the rally. Alexander Tschugguel from the Catholic St. Bonifatius Institute spoke firmly against state access to our bodies and appealed to people to continue to resist before everything is taken away from us. Representatives from the health care industry explained that we have only 57 days left before the mandatory vaccination law is passed. Then many would become unemployed, it was our last chance of resistance. The fact that Karl Nehammer will now become the new chancellor is causing particular disgruntlement among the resisters. They know from their own demonstration experiences that he already distinguished himself as Minister of the Interior by his autocratic, inhuman style. Student representatives from "Studenten Stehen Auf" also took the floor and complained about the exclusion from the universities. Mothers are calling for their children to be taken out of schools, as thousands have done in Austria in recent months. Because the government will not let up and will also forcibly inject the children and if we do nothing, soon the newborns as well.

In the meantime, several demo marches are moving through the city. The police are aggressive today, blocking access points, bridges and roads again and again, and are obviously counting on escalation.
Here's the 5-hour livestream video Wochenblick provides us from yesterday:
********
First EU country to lock down unvaccinated hit by mass protests (VIDEOS)
RT
Tens of thousands of demonstrators marched through the streets of Austria's capital, Vienna, protesting against Covid-19 restrictions and the nationwide vaccination mandate.
Over 40,000 protesters against the Austrian government's coronavirus policies took to the streets of Vienna on Saturday, according to police estimates. Police reinforcements were brought in from other regions to the capital in anticipation of potential unrest, with a total of 27 rallies planned for Saturday, the majority of them against the vaccination mandate.
Minor clashes broke out between the demonstrators and police, resulting in several arrests. Police reported that anti-mandate protesters hurled flares at officers, and that pepper spray was deployed. Multiple protesters were also reportedly fined for not wearing face masks.
One popular slogan seen and heard during Saturday's demonstrations equated mandatory vaccinations to "genocide" and the government to a "fascist dictatorship" for implementing the policy. The protesters decried the government's push to make Covid vaccination mandatory for all citizens come February – a decision made on November 19 by former chancellor Alexander Schallenberg, who has since announced his resignation. His successor, Karl Nehammer, is expected to reaffirm the policy. In late November, then minister of interior Nehammer blamed "extremists" for fomenting anti-vaccination sentiment.
At least one counter-demonstration was held in central Vienna on Saturday. Some 1,500 left-wing activists turned out for the protest, marching under slogans such as: "Put on masks! Against Nazis, the state and capital!" while accusing the rival rally of being an assortment of right-wing extremists, anti-vaxxers and Covid-deniers.
A wave of similar demonstrations against the vaccination mandate have taken place across Austria in recent weeks. Some of the rallies drew tens of thousands of people.
************
Published to The Liberty Beacon from EuropeReloaded.com
First EU Country to Lock Down Unvaccinated Hit By Mass Protests [VIDEOS]