DETECTED VACCINE INGREDIENTS
COVID-19 VACCINE INGREDIENTS-nobulart.com
COVID-19 VACCINE DECLARED INGREDIENTS
UNDISCLOSED SECRET VACCINE INGREDIENTS
The components which do not appear to have been declared include:
Aluminum (Al)
Bismuth (Bi)
Cadmium (Cd)
Chromium (Cr)
Copper (Cu)
Iron (Fe)
Lead (Pb)
Magnesium (Mg)
Manganese (Mn)
Nickel (Ni)
Selenium (Se)
Silicon (Si)
Sulfur (S)
Tin (Sn)
Titanium (Ti)
Vanadium (V)
Graphene oxide (C140H42O20)
Graphene Hydroxide
…which includes the blood parasite, Trypanosoma cruzi (Chagas disease) or possibly Trypanosoma brucei (African sleeping sickness), as indicated in the most recent MHRA reports (reproduced below) and four VAERS reports. Trypanosoma is composed of carbon, oxygen, chromium, sulphur, aluminum, chloride and nitrogen.

"Vaccine" Non-disclosed Ingredients:
Graphene Hydroxide
Parasites
Ethylene Alcohol
Stainless Steel, an engineered aggregate of iron, chromium and nickel also known as stainless steel of micro and nano particles
(histidine, sucrose, Poly-ethylene glycol (PEG) and ethylene alcohol-
The injection of PEG and Ethylene alcohol are both known as carcinogenic and genotoxic.[10][83]  PEG was the only adjuvant declared on the data sheet listing the ingredients of the Astrazeneca "vaccine" but also contained in the Pfizer and Moderna "vaccines")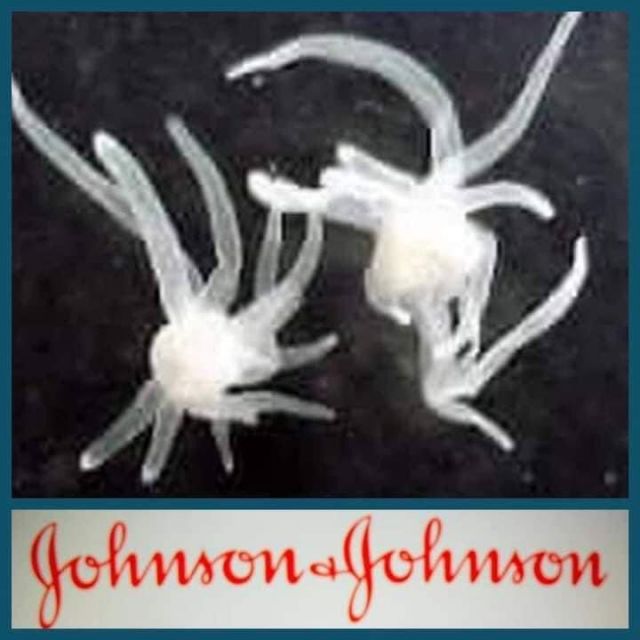 Janssen (Johnson & Johnson) "Vaccine" Non-Disclosed Ingredients
Stainless Steel and are glued together with a "Carbon-based glue" of reduced graphene oxide.[11] This aggregate is highly magnetic and can trigger pathological blood coagulation and "The Corona Effect" or "The Spike Protein Effect" creation from the degeneration of the cell membrane due to interactions with other dipoles.
INTRODUCTION
On 20 August 2021 Dr. Robert Young published his team's findings after analyzing the four dominant COVID-19 "vaccines" using Phase Contrast Microscopy, Transmission and Scanning Electron Microscopy and Energy-Dispersive X-ray Spectroscopy. Their findings both confirm and expand upon the prior investigations carried out by Dr. Pablo Campra (University of Almeria, Spain), Dr. Juan F. Gastón Añaños (Hospital de Barbastro, Spain), as well as the recent pathology reports from autopsies of vaccinated deceased which were carried out by Prof. Dr. Arne Burkhardt, Prof. Dr. Walter Lang and Prof. Dr. Peter Schirmacher (Germany & Austria).
Many of these substances were observed as being bonded to graphene oxide and metallic nanoparticles. GO nanoparticles are necrotic, able to pass into or through physiological barriers including (but not limited to) the blood-air barrier, the blood-testis barrier, the blood-brain barrier, and the blood-placenta barrier. Over a period of several months after intramuscular injection, as much as 75% of the GO nanoparticle "delivery platform", and most of the substances listed below, are transported extensively throughout the bodies of mammals, into the blood, brain and other organs. Some of the many toxic effects of graphene oxide are myocarditis and blood clotting. Contamination in vaccines appears to be so common that one might be forgiven for thinking that it is deliberate.
MARKED FOR DEATH AND TRACKED FOR LIFE
Dr, Young also suggests in this interview and in his scientific article that those people Inoculated with the CoV -19 are NOT shedding proteins but are receiving and transmitting pulsating radio and microwave radiation linked to them from cell towers and satellite transmissions.
Dr, Young:
"This directed frequency and human connection from the cell towers and/or satellites creates a quantum link to the biosensor graphene iron oxide material now contained in the brain, lungs, heart, muscles, bone, fat and reproductive organs.
These poor souls who have been inoculated with the CoV-19 so-called vaccine are now human cell towers receiving and transmitting radio and microwave radiation from their own body effecting their health and the health of anyone around them.
Everyone who had been inoculated with the CoV – 19 so-called vaccine are now linked to the "Internet of Things" and have received a specific identification number for contact tracing.
This will continue with all who have been inoculated as long as they have the biosensor graphene/iron oxide nano particulates in their connective and fatty tissues, i.e. their blood, the interstitial fluids, the intracellular fluids, the heart, the brain, the reproductive organs and the bone marrow."
(See Text Included With Videos Below)
Shocking Test Results for CoV – 19 Vaccines Contain Cytotoxic, Genotoxic and Magneticotoxic Ingredients! (Video 1)

Shocking Results for CoV Vaccine Ingredients & the Path of Destruction They Cause! (Video 2)

You Won't Believe What They Found In The CoV19 Vaccines –
(It Will BLOW Your Mind) (Video 3)
Toxicity of graphene-family nanoparticles: a general review of the origins and mechanisms Abstract:
Due to their unique physicochemical properties, graphene-family nanomaterials (GFNs) are widely used in many fields, especially in biomedical applications. Currently, many studies have investigated the biocompatibility and toxicity of GFNs in vivo and in intro. Generally, GFNs may exert different degrees of toxicity in animals or cell models by following with different administration routes and penetrating through physiological barriers, subsequently being distributed in tissues or located in cells, eventually being excreted out of the bodies. This review collects studies on the toxic effects of GFNs in several organs and cell models. We also point out that various factors determine the toxicity of GFNs including the lateral size, surface structure, functionalization, charge, impurities, aggregations, and corona effect ect. In addition, several typical mechanisms underlying GFN toxicity have been revealed, for instance, physical destruction, oxidative stress, DNA damage, inflammatory response, apoptosis, autophagy, and necrosis. In these mechanisms, (toll-like receptors-) TLR-, transforming growth factor β- (TGF-β-) and tumor necrosis factor-alpha (TNF-α) dependent-pathways are involved in the signalling pathway network, and oxidative stress plays a crucial role in these pathways. In this review, we summarize the available information on regulating factors and the mechanisms of GFNs toxicity, and propose some challenges and suggestions for further investigations of GFNs, with the aim of completing the toxicology mechanisms, and providing suggestions to improve the biological safety of GFNs and facilitate their wide application.
(Text-Video 1)
Shocking Test Results for CoV – 19 Vaccines Contain Cytotoxic, Genotoxic and Magneticotoxic Ingredients! (
This May Be The Most Important Video That YOU Will Ever Watch! It Truly is a Matter of Life and Death!
In early August of 2021, Dr. Robert O. Young published a scientific paper on the ingredients of the Pfizer, Moderna, Janssen, and Astrazeneca so-called vaccines which revealed the inclusion of the cytotoxic, genotoxic and magneticotoxic ingredients of graphene and iron oxide, both at nano size and bound together forming a ferrofluid or graphene goo. (Patent for for the use of graphene oxide in a so-called vaccine was given in August, 2021)
In this interview and in Dr. Young's scientific article, "Scanning and Transmission Electron Microscopy Reveals Graphene Oxide in ALL CoV – 19 Vaccines." you will see a symplast or cluster bomb of graphene and iron ferrofluid or black goo causing pathological blood coagulation or blood clots leading to hypercapnia, hypoxia, pulmonary embolism and death by decompensated acidosis of the interstitial fluids of the lungs.
Dr, Young also suggests in this interview and in his scientific article that those people Inoculated with the CoV -19 are NOT shedding proteins but are receiving and transmitting pulsating radio and microwave radiation linked to them from cell towers and satellite transmissions.
This directed frequency and human connection from the cell towers and/or satellites creates a quantum link to the biosensor graphene iron oxide material now contained in the brain, lungs, heart, muscles, bone, fat and reproductive organs. These poor souls who have been inoculated with the CoV-19 so-called vaccine are now human cell towers receiving and transmitting radio and microwave radiation from their own body effecting their health and the health of anyone around them. Everyone who had been inoculated with the CoV – 19 so-called vaccine are now linked to the "Internet of Things" and have received a specific identification number for contact tracing. This will continue with all who have been inoculated as long as they have the biosensor graphene/iron oxide nano particulates in their connective and fatty tissues, i.e. their blood, the interstitial fluids, the intracellular fluids, the heart, the brain, the reproductive organs and the bone marrow.
The methodology used by Dr. Young and a team of scientists from around the World, reveal the evidence of toxic nano particulate of graphene oxide, iron oxide, aluminum oxide, titanium dioxide, stainless steel, parasites, just to name a few of the ingredients in the Pfizer, Moderna, Janssen and Astrazeneca so-called "vaccines" using Transmission and Scanning Electron Microscopy, Optical pHase Contrast, Bright Field and Dark Field Microscopy and Energy Dispersive X-Ray Spectroscopy to uncover all the ingredients whether listed or not listed on the declaration of ingredients insert found in manufactures box containing the so-called vaccine vials.
You can find more information on Dr. Young's biography, CV, articles and interviews at: www.drrobertyoung.com.
Here are just a few of Dr. Robert O. Young's most recent peer-reviewed scientific articles on CoV – 2, now called CoV – 19, you might want to review:
1. What Do Viruses Like HIV and Corona Have in Common with Exosomes – https://www.drrobertyoung.com/post/what-do-so-called-viruses-like-hiv-cov-19-have-in-common-with-exosomes
https://www.jewworldorder.org/what-do-viruses-like-hiv-corona-have-in-common-with-exosomes-the-genesis-of-severe-acute-respiratory-syndrome-or-sars-corona-virus-or-covid-19/
2. Young RO, Migalko G (2020) What Causes Oxygen Deprivation of the Blood(DIC) and Then Lungs(SARS – CoV 2 & 12)?. Integ Mol Bio Biotechnol 1: 001-007
http://sciaeon.org/articles/What-Causes-Oxygen-Deprivation-of-the-Blood-DIC-and-Then-Lungs-SARS-CoV2and12.pdf
3. The Genesis of Severe Acute Respiratory (Syndrome) Disease or SARS (Coronavirus – COVID – 2 and COVID – 19) is Found in the Interstitial Fluids of Intestitium.
https://www.drrobertyoung.com/post/the-genesis-of-severe-acute-respiratory-syndrome-or-sars-corona-virus-or-covid-19
4. Young, R.O., Migalko, G., "Interstitial Fluid Lung Disease (IFLD) of the Interstitium Organ the Cause and Self-Care to a Self-Cure for Lung Disease". International Journal of Cancer Research & Therapy, https://bit.ly/2xD8VBP, January 20, 2020
https://opastonline.com/wp-content/uploads/2020/02/interstitial-fluid-lung-disease-IFLD-of-the-interstitium-organ-the-cause-and-self-care-to-a-self-cure-for-lung-disease-ijcrt-20.pdf
Screen Shot 2021-10-03 at 10.34.23 PM.png
5. In peer-review to be published October 20th, 2021 – International Journal of Vaccines and Vaccinations
Scanning & Transmission Electron Microscopy Reveals Graphene Oxide/Hydroxide in CoV-19 Vaccines
https://www.drrobertyoung.com/post/transmission-electron-microscopy-reveals-graphene-oxide-in-cov-19-vaccines
In addition to the scientific articles cited above there are 250 articles on CoV – 19 published by Dr. Robert O. Young at www.drrobertyoung.com/blog
6. Part 1: Young RO (2016) Second Thoughts about Viruses, Vaccines, and the HIV/AIDS Hypothesis – Part 1. Int J Vaccines Vaccin 2(3): 00032. DOI: 10.15406/ijvv.2016.02.00032
7. Part 2: Young RO (2016) Second Thoughts Concerning Viruses, Vaccines and the HIV/AIDS Hypothesis – Part 2. Int J Vaccines Vaccin 2(3): 00034. DOI: 10.15406/ijvv.2016.02.00034
8. Part 3: Young RO (2016) Second Thoughts Concerning Viruses, Vaccines and the HIV/AIDS Hypothesis – Part 3 HIV/AIDS and the Monomorphic Disease Model. Int J Vaccines Vaccin 2(3): 00035. DOI: 10.15406/ijvv.2016.02.00035
Dr. Young states, "Knowledge is a protective power that can change and save YOUR life!"
(Text-Video 2)
Shocking Results for CoV Vaccine Ingredients & the Path of Destruction They Cause!
This May Be The Most Important Video That YOU Ever Watch! It Truly is a Matter of Life and Death!
In early August of 2021, Dr. Robert O. Young published a scientific paper on the ingredients of the Pfizer, Moderna, Janssen, and Astrazeneca so-called vaccines which revealed the inclusion of the cytotoxic, genotoxic and magneticotoxic ingredients of graphene and iron oxide, both at nano size and bound together forming a ferrofluid or graphene goo. (Patent for for the use of graphene oxide in a so-called vaccine was given in August, 2021)
In this interview and in Dr. Young's scientific article, "Scanning and Transmission Electron Microscopy Reveals Graphene Oxide in ALL CoV – 19 Vaccines." you will see a symplast or cluster bomb of graphene and iron ferrofluid or black goo causing pathological blood coagulation or blood clots leading to hypercapnia, hypoxia, pulmonary embolism and death by decompensated acidosis of the interstitial fluids of the lungs.
Dr, Young also suggests in this interview and in his scientific article that those people Inoculated with the CoV -19 are NOT shedding proteins but are receiving and transmitting pulsating radio and microwave radiation linked to them from cell towers and satellite transmissions.
This directed frequency and human connection from the cell towers and/or satellites creates a quantum link to the biosensor graphene iron oxide material now contained in the brain, lungs, heart, muscles, bone, fat and reproductive organs. These poor souls who have been inoculated with the CoV-19 so-called vaccine are now human cell towers receiving and transmitting radio and microwave radiation from their own body effecting their health and the health of anyone around them. Everyone who had been inoculated with the CoV – 19 so-called vaccine are now linked to the "Internet of Things" and have received a specific identification number for contact tracing. This will continue with all who have been inoculated as long as they have the biosensor graphene/iron oxide nano particulates in their connective and fatty tissues, i.e. their blood, the interstitial fluids, the intracellular fluids, the heart, the brain, the reproductive organs and the bone marrow.
The methodology used by Dr. Young and a team of scientists from around the World, reveal the evidence of toxic nano particulate of graphene oxide, iron oxide, aluminum oxide, titanium dioxide, stainless steel, parasites, just to name a few of the ingredients in the Pfizer, Moderna, Janssen and Astrazeneca so-called "vaccines" using Transmission and Scanning Electron Microscopy, Optical pHase Contrast, Bright Field and Dark Field Microscopy and Energy Dispersive X-Ray Spectroscopy to uncover all the ingredients whether listed or not listed on the declaration of ingredients insert found in manufactures box containing the so-called vaccine vials.
You can find more information on Dr. Young's biography, CV, articles and interviews at: www.drrobertyoung.com.
Here are just a few of Dr. Robert O. Young's most recent peer-reviewed scientific articles on CoV – 2, now called CoV – 19, you might want to review:
1. What Do Viruses Like HIV and Corona Have in Common with Exosomes – https://www.drrobertyoung.com/post/what-do-so-called-viruses-like-hiv-cov-19-have-in-common-with-exosomes
https://www.jewworldorder.org/what-do-viruses-like-hiv-corona-have-in-common-with-exosomes-the-genesis-of-severe-acute-respiratory-syndrome-or-sars-corona-virus-or-covid-19/
2. Young RO, Migalko G (2020) What Causes Oxygen Deprivation of the Blood(DIC) and Then Lungs(SARS – CoV 2 & 12)?. Integ Mol Bio Biotechnol 1: 001-007
http://sciaeon.org/articles/What-Causes-Oxygen-Deprivation-of-the-Blood-DIC-and-Then-Lungs-SARS-CoV2and12.pdf
3. The Genesis of Severe Acute Respiratory (Syndrome) Disease or SARS (Coronavirus – COVID – 2 and COVID – 19) is Found in the Interstitial Fluids of Intestitium.
https://www.drrobertyoung.com/post/the-genesis-of-severe-acute-respiratory-syndrome-or-sars-corona-virus-or-covid-19
4. Young, R.O., Migalko, G., "Interstitial Fluid Lung Disease (IFLD) of the Interstitium Organ the Cause and Self-Care to a Self-Cure for Lung Disease". International Journal of Cancer Research & Therapy, https://bit.ly/2xD8VBP, January 20, 2020
https://opastonline.com/wp-content/uploads/2020/02/interstitial-fluid-lung-disease-IFLD-of-the-interstitium-organ-the-cause-and-self-care-to-a-self-cure-for-lung-disease-ijcrt-20.pdf
Screen Shot 2021-10-03 at 10.34.23 PM.png
5. In peer-review to be published October 20th, 2021 – International Journal of Vaccines and Vaccinations
Scanning & Transmission Electron Microscopy Reveals Graphene Oxide in CoV-19 Vaccines
https://www.drrobertyoung.com/post/transmission-electron-microscopy-reveals-graphene-oxide-in-cov-19-vaccines
In addition to the scientific articles cited above there are 250 articles on CoV – 19 published by Dr. Robert O. Young at www.drrobertyoung.com/blog
6. Part 1: Young RO (2016) Second Thoughts about Viruses, Vaccines, and the HIV/AIDS Hypothesis – Part 1. Int J Vaccines Vaccin 2(3): 00032. DOI: 10.15406/ijvv.2016.02.00032
7. Part 2: Young RO (2016) Second Thoughts Concerning Viruses, Vaccines and the HIV/AIDS Hypothesis – Part 2. Int J Vaccines Vaccin 2(3): 00034. DOI: 10.15406/ijvv.2016.02.00034
8. Part 3: Young RO (2016) Second Thoughts Concerning Viruses, Vaccines and the HIV/AIDS Hypothesis – Part 3 HIV/AIDS and the Monomorphic Disease Model. Int J Vaccines Vaccin 2(3): 00035. DOI: 10.15406/ijvv.2016.02.00035
Dr. Young states, "Knowledge is a protective power that can change and save YOUR life!"
As it pertains to inoculations Dr. Young states, "It is YOUR body, YOUR life and YOUR God Given Choice always – Choose wisely."
(Text-Video 3)
Scanning & Transmission Electron Microscopy Reveals Graphene Oxide/Hydroxide in CoV-19 Vaccines

https://www.drrobertyoung.com/post/transmission-electron-microscopy-reveals-graphene-oxide-in-cov-19-vaccines
https://beforeitsnews.com/alternative/2021/12/dr-robert-young-shocking-results-for-cov-vaccine-ingredients-the-path-of-destruction-they-cause-ultimate-video-proof-of-secret-vax-ingredients-attack-on-the-body-of-the-vaccinated-videos-art-3763772.html