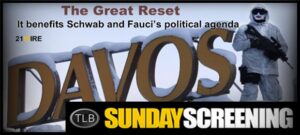 SUNDAY SCREENING: 'What's Up With The Great Reset?'
"It benefits Schwab and Fauci's political agenda to continue lockdowns as long as possible. The same people who sell interminable lockdowns — by ignoring great science on pre-existing immunity, lack of asymptomatic spread, and flawed PCR tests — believe the lockdowns are the perfect agent to usher in the changes they desire." – Stacey Rudin
In this two-part video presentation, commentator Kate Wand unravels the globalist agenda known as "The Great Reset" which is currently being pushed through western governments under the political slogan of "Build Back Better" repeated in unison by western political leaders and the corporate media, and designed by the technocrats at the World Economic Forum and their billionaire elite sponsors.
Understanding what this new embryonic global government is configured is essential if one is to truly know where all of these corporativist-collectivist policies are leading towards: global totalitarianism. Watch:
Part One  
Part Two
Run time: Parts 1 & 2 approximately 34 min
Narrated and produced by Kate Wand (2021)
*********
(TLB) published this Video presentation from 21WIRE with our sincere appreciation for this report and perspective.
SEE MORE SUNDAY SCREENINGS HERE
YOU CAN HELP SUPPORT 21WIRE'S INDEPENDENT MEDIA PLATFORM HERE