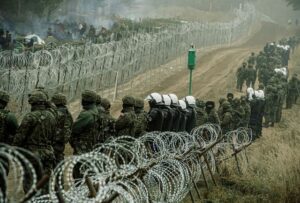 By Daniel Keane
5 hours ago
Russia has claimed that "Britain is to blame" for the migrant crisis on the Polish border after foreign secretary Liz Truss called on President Vladimir Putin to intervene.
The Kremlin said the UK had a "historical responsibility" for the plight of Iraqi refugees who were amassing at the border and attempting to cross into Europe.
Writing in the Sunday Telegraph, Ms Truss accused Belarus' President Lukashenko of using "desperate migrants as pawns" in a "carefully crafted crisis". The European Union has claimed that Mr Lukashenko is deliberately pushing migrants across the border in response to economic sanctions placed on his regime.
Responding to Ms Truss on Sunday, Russia's foreign ministry spokeswoman Maria Zakharova denied that Mr Putin bore any responsibility for the crisis despite his continued support for Belarus.
"The British invasion of Iraq was 'carefully crafted,'" Ms Zakharova said. "Britain bears a clear historical responsibility for everything that has happened in the region since – the deaths of Iraqis, the destruction of Iraqi statehood, the endless flows of refugees, the emergence of ISIS, the humanitarian disasters in this part of the world.
"Until London is held accountable for its crimes, its representatives have no right to point the finger at anyone."
Polish soldiers and police watch migrants at the Poland/Belarus border near Kuznica
Polish soldiers and police watch migrants at the Poland/Belarus border near Kuznica / via REUTERS
Russia is a key ally of Belarus, which the EU has accused of mounting a "hybrid attack" by flying in thousands of migrants, mainly from the Middle East, and pushing them to try to cross illegally into Poland.
Later on Sunday, Mr Putin echoed Ms Zakharova's comments in an interview with Russian state TV.
"Do not forget where the crisis associated with migrants came from," he said. "Is it Belarus that pioneered these problems or what? No, these are causes that were created by the Western countries, including European countries."
Elsewhere, Mr Putin accused Polish forces on the border with Belarus of beating migrants, firing rounds above their heads and turning on lights and sirens at night nearby.
"This doesn't really tie in well with the ideas of humanity that supposedly underpin all the policies of our Western neighbours," he added.
Mateusz Morawiecki, Poland's Prime Minister, has called for NATO to step in.
"It is not enough just for us to publicly express our concern – now we need concrete steps and the commitment of the entire alliance," he told Polish state-run news agency PAP.
As the crisis has unfolded, EU officials have raised the alarm over the movement of Russian troops near the Ukrainian border and a possible attack. Moscow has complained about increasing NATO activity in the region.