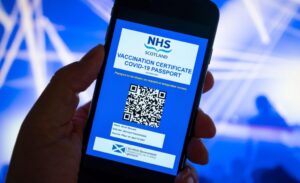 The SNP Deputy First Minister, John Swinney, has said that the Scottish Government has no evidence on whether its vaccine passport scheme reduces Covid transmission or entices the unvaccinated to come forward for the jab. Despite the absence of available data, Swinney declared that the vaccine mandate was having a positive impact in curbing the spread of the disease, and has also mentioned that the scheme may continue and possibly be extended to other settings. The Times has the story.
Swinney said it was "impossible to segment" Covid data to determine whether it was working, but he believed that it was "delivering a positive benefit to the suppression of the virus".

Since the start of October adults in Scotland have had to prove they are double vaccinated to enter nightclubs or attend large events, with legal enforcement from October 18th.

The Scottish Government said the scheme aimed to increase vaccine take-up, reduce the spread of the virus and allow supposedly high-risk venues to remain open.

Scotland recorded 33 deaths linked to Covid and 2,800 cases in the past 24 hours, according to the latest data. About 900 patients were in hospital on Wednesday with recently confirmed Covid, down 40 from the previous day. The figure of 60 in intensive care did not change.

Swinney told Holyrood's Covid committee yesterday that the proportion of 18 to 29 year-olds who had received both vaccinations rose from 64% on October 1st to 68% a month later, describing it as a "sizeable increase".
Worth reading in full.
Stop Press: Public Health Researcher Devi Sridhar, writing for the Guardian, recently called for the U.K. to adopt a vaccine passport system similar to that of Germany's, a nation which has just recorded its highest daily increase of Covid cases.
https://dailysceptic.org/2021/11/05/no-way-of-knowing-whether-scotlands-vaccine-passport-scheme-reduces-transmission-says-deputy-first-minister/