People often ask me what's the difference between a typical virus and a retrovirus.
The answer is simple.
Many viruses are composed of DNA.
A retrovirus is composed of RNA.
But wait, you say to yourself, aren't ….. all living things based on DNA?
The answer is yes, they are.
While nobody knows the answer, the current thinking is that RNA must have been a precursor to DNA, used by the most primitive organisms at the very dawn of life on our planet.  Nature, in her unparalleled efficiency, uses nucleic acid building blocks RNA in DNA for essentially all organisms, but those pathogens that are made of RNA, like retroviruses, need an enzyme to transform their RNA into DNA and insert itself into the hosts' DNA blueprint in order for the virus to survive.  A retrovirus cannot live or replicate without using the machinery of the host cell.
The enzyme retroviruses use to change their RNA into DNA is called reverse transcriptase.  I consider the presence of reverse transcriptase in a disease to be … smoking gun evidence of a retrovirus being involved.
If you're a retrovirus, there's just one thing about reverse transcriptase.
It's an inefficient enzyme for copying your genetic code.
Reverse transcriptase is prone to copying errors, causing retroviruses to easily mutate into viruses with wildly different genetic profiles.  That means there can be large variations between different strains of a single type of retrovirus.
This trait of retroviruses made many scientists believe they could never cause much harm to humans because they seemed to be, well, unstable……Most have dismissed them as non-infectious junk DNA.  Retroviruses seemed like some biological relic of our far distant past..
HIV-AIDS was a wake-up call to the danger of retroviruses, showing they could be just as dangerous as a typical virus.
HIV killed relatively quickly for a retrovirus.  XMRV's disabled, keeping their hosts alive, but in a state where they could generally not regain their health. (Chronic Fatigue/ME)
……………………….
Let me break it down for you….when you mix animal and human tissue, there's a risk that infectious agents present in the animals may cross over into human cells.  The viruses were likely dormant in the animal, but when put into humans, they may wake up and become active.  We could also say there's a risk that human pathogens could cross over into animal cells.  What we're doing is breaking down the barriers nature has erected so that the pathogens of one species cannot be easily transferred to humanity and vice versa.  ….
Retroviruses can affect you in ways that are different from those normally associated with your typical virus.
Transmission is 'silent', meaning your body's immune system is not alerted to fight this invader.  The pathogen could be said to be 'stealth' like a B-1 bomber…
This led me to more fully question and understand the threat posed by using animal tissues in medical products.  This applies to ……..vaccines …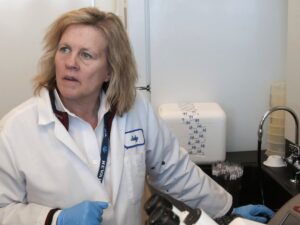 Extracted from Plague Of Corruption.  CHD Books.  Dr Judy Mikowits/Kent Heckenlively/ foreward by Robert F Kennedy.