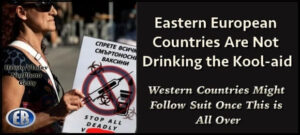 Hesitancy is equally high in Romania and non-EU Serbia, North Macedonia and Kosovo. In Bosnia and Herzegovina, only 15% have taken both vaccines.
The cause? Plausibly, countries that were under harsh communist rule are most likely to show low take-up rates. Bulgaria, Romania, Albania, North Macedonia, Kosovo, Serbia, Bosnia Herzegovina, and Croatia were under communist rule until 1990. Says euractiv, 'Democracy in the region is still fragile and distrust of governments is also fuelled by widespread corruption and a disregard for the rule of law.' Western governments have shown exactly this level of CONTEMPT for the rule of law, where laws (real ones) were put securely in place to deal with (real) pandemics historically, only to be conveniently side-stepped in 2020. Regulations of dubious legal standing were 'passed' without debate while parliaments were in lockdown. But we digress.
The report goes on to say that a 2021 study by LSE researchers found that 'countries with a Soviet Union past were linked to reduced trust in vaccines' and generally less trust overall. Perfectly understandable.
Check out the euractiv report, but it comes with a vaccine-is-good-science propaganda warning.
As the West hurtles more and more into its authoritarian period, hopefully we will emerge from it with close to ZERO TRUST of government and its bought-up experts, too.