"The smaller investors are owned by larger investors. Those are owned by even bigger investors. The visible top of this pyramid shows only two companies whose names we have often seen…They are Vanguard and BlackRock. The power of these two companies is beyond your imagination. Not only do they own a large part of the stocks of nearly all big companies but also the stocks of the investors in those companies. This gives them a complete monopoly.
GlaxoSmithKline Joint Venture with Pfizer
Thursday, August 01, 2019 – 12:15am EDT
Pfizer Inc. (NYSE: PFE) today announced the closing of its joint venture with GlaxoSmithKline plc (NYSE: GSK) to combine the parties' respective consumer healthcare businesses to create the world's largest over-the-counter (OTC) business with robust iconic brands. As previously announced, under the terms of the transaction, Pfizer owns a 32% equity stake in the joint venture and GSK owns 68%. The combined business, which will operate globally as GSK Consumer Healthcare, will be led by CEO Brian McNamara.  Pfizer Announcement
GSK, which is headquartered in Britain, will own just over two-thirds of the joint venture, with US-based Pfizer (PFE) holding the rest.  WRAL TechWire
BlackRock Inc. ownership in GSK / GlaxoSmithKline plc
2021-01-29 – BlackRock Inc. has filed an SC 13G/A form with the Securities and Exchange Commission (SEC) disclosing ownership of 377,284,263 shares of GlaxoSmithKline plc (US:GSK). This represents 7.5 percent ownership of the company. In their previous filing dated 2020-02-05, BlackRock Inc. had reported owning 376,159,235 shares, indicating an increase of 0.30 percent.  Fintel information
AXA and BlackRock's  Connection
AXA Investment Managers has hired BlackRock's Simon Baxter as a credit portfolio manager, the French group has announced.  CityWire
AXA and Winterthur Connection
Axa Winterthur is a multinational insurance company. The original company named Winterthur was founded in Winterthur, Switzerland, in 1875. From 1997 to June 2006, Winterthur was a Credit Suisse (CS) subsidiary.[1] Now, Paris-based Axa Insurance has entered into a definitive agreement to purchase Winterthur group from CS for approximately CHF 12 billion. From 2007 onward, Axa will be merging the companies. Due to the takeover, Axa Insurance will take over the brand name and general supervision of the company. Logo changes started to appear in Barcelona during January 2007.
ALIANZ
As of 2014, it is the world's largest insurance company, the largest financial services group and the largest company according to a composite measure by Forbes magazine,[3] as well as the largest financial services company when measured by 2013 revenue. The company is a component of the Euro Stoxx 50 stock market index.[4]
Its asset management division, which consists of PIMCO, Allianz Global Investors and Allianz Real Estate, has €2,432 billion of assets under management (AuM), of which €1,775 billion are third-party assets (Q1 2021). Wikipedia
Open Society Foundations
Open Society Foundations (OSF), formerly the Open Society Institute, is a grantmaking network founded by business magnate George Soros.[2] Open Society Foundations financially support civil society groups around the world, with a stated aim of advancing justice, education, public health and independent media.[3][4] The group's name is inspired by Karl Popper's 1945 book The Open Society and Its Enemies.[5]
The OSF has branches in 37 countries,[6] encompassing a group of country and regional foundations, such as the Open Society Initiative for West Africa, and the Open Society Initiative for Southern Africa; its headquarters are at 224 West 57th Street in New York City. In 2018, OSF announced it was closing its European office in Budapest and moving to Berlin, in response to legislation passed by the Hungarian government targeting the foundation's activities.[7] Since its establishment in 1993, OSF has reported expenditures in excess of $16 billion mostly in grants towards NGOs, aligned with the organisation's mission.[8]  
Microsoft Corp and BlackRock
Microsoft Corp. (MSFT) is one of the world's largest companies by market value and among the tech industry's greatest success stories. Founded in 1975, its Window's software product turned it into a multi-billion dollar corporation within the span of a few years.1 Microsoft's business today encompasses personal computing devices, cloud systems and services, software, and related products sold to both individual consumers and businesses. Demand for the company's cloud services and personal computing products has jumped as millions of consumers and business employees shelter at home amid the COVID-19 pandemic.2
The top shareholders of Microsoft are Satya Nadella, Bradford L. Smith, Jean-Philippe Courtois, Vanguard Group Inc., BlackRock Inc. (BLK), and State Street Corp.
State Street Corp.
State Street owns 314.8 million shares of Microsoft, representing 4.2% of total shares outstanding, according to the company's 13F filing as of March 31, 2020.9 State Street manages mutual funds, ETFs and other investments with $3.1 trillion in AUM.14 The SPDR S&P 500 ETF Trust (SPY) is among State Street's largest ETFs with approximately $276 billion in AUM. Microsoft is the largest holding in this ETF, representing 6.2% of SPY's portfolio.15
William Henry Gates III (born October 28, 1955) is an American business magnate, software developer, investor, author, and philanthropist. He is a co-founder of Microsoft Corporation, along with his late childhood friend Paul Allen.[3][4] During his career at Microsoft, Gates held the positions of chairman, chief executive officer (CEO), president and chief software architect, while also being the largest individual shareholder until May 2014.[5] He is considered one of the best known entrepreneurs of the microcomputer revolution of the 1970s and 1980s.
Bill Gates
Gates was born and raised in Seattle, Washington. In 1975, he and Allen founded Microsoft in Albuquerque, New Mexico. It became the world's largest personal computer software company.[6][a] Gates led the company as chairman and CEO until stepping down as CEO in January 2000, succeeded by Steve Ballmer, but he remained chairman of the board of directors and became chief software architect.[9] During the late 1990s, he was criticized for his business tactics, which have been considered anti-competitive. This opinion has been upheld by numerous court rulings.[10] In June 2008, Gates transitioned to a part-time role at Microsoft and full-time work at the Bill & Melinda Gates Foundation, the private charitable foundation he and his wife, Melinda Gates, established in 2000.[11] He stepped down as chairman of the board of Microsoft in February 2014 and assumed a new post as technology adviser to support the newly appointed CEO Satya Nadella.[12] In March 2020, Gates left his board positions at Microsoft and Berkshire Hathaway to focus on his philanthropic efforts including climate change, global health and development, and education.[13]
Wuhan Biological Lab
FRANCE has warned that the Wuhan laboratory linked to the Covid epidemic could be turned into a "biological arsenal" by the Chinese military four years before the pandemic, it was reported.
A former U.S. state official under the Trump administration claimed that French scientists were "kicked out" from the Wuhan Institute of Virology in 2017, prompting French officials to warn the United States that they were gravely concerned about China's plans.
David Asher, now a senior researcher at the Hudson Institute think tank, told the Daily Caller News Foundation that French intelligence officials warned the United States that China was cutting back on the collaboration agreed to at the lab in 2015.
Following the 2003 SARS epidemic, France and China signed an agreement in 2004 to build a new biosafety laboratory at the Wuhan Institute of Virology to "fight and prevent new diseases".
France provided the lab design, biosafety training, and much of its technology before the BSL-4 level lab – now in the center of a storm due to an alleged lab leak – had officially opened in 2018.
And as part of the agreement between Paris and Beijing, around fifty French scientists have been sent to help train Chinese laboratory workers and supervise the work of researchers.
But cooperation between France and China came to a halt in 2017 when French scientists were "kicked out", raising concerns about China's motives, Asher said.
And French security and defense experts had already opposed collaboration between the two countries, Le Figaro newspaper reported.
National security officials did not want to share sensitive technology with China because they feared that the laboratory would one day turn into a "biological arsenal", according to Le Figaro.
The US State Department has already claimed that the Wuhan institute has been engaged in classified research on behalf of the Chinese military since 2017.
Asher said US federal funding for the lab should have been halted when the French notified the US State Department in 2015.
"The Chinese basically sucked the state into its honeypot operation to gain access to technology, knowledge and material support from the United States. Classic. As they have done in all industries, "Asher said.
He said State Department officials "in charge of non-proliferation should have ended all cooperation."
Between October 2009 and May 2019, the United States Agency for International Development (USAID) provided $ 1.1 million to the United States-based EcoHealth Alliance for a sub-agreement with the lab, according to USAID.
FINANCING PROBE
A federal watchdog is also investigating the National Institutes of Health after it was revealed that the organization had given more than $ 800,000 in funding to the Chinese lab.
According to emails obtained by WikiLeaks, the US State Department raised concerns about the Wuhan lab as early as 2009, asking what France knew about how China planned to "screen incoming foreign researchers." .
The idea that Covid may have emerged from a lab leak has gained momentum – but Beijing has repeatedly insisted that a leak would have been "extremely unlikely".
Last week, Yuan Zhiming, director of the National Biosafety Laboratory of the Wuhan Institute of Virology, said that "no pathogen leaks or staff infection accidents have occurred" since the opening of the laboratory in 2018.
And China said the World Health Organization's plan to audit Chinese laboratories as part of the investigation into the origins of the pandemic showed "disrespect" and "arrogance towards science." .
The United Nations health body recently said the second stage of the investigation should include inspections of Chinese laboratories amid mounting pressure from the United States.
But Chinese Vice Minister of Health Zeng Yixin said he was "extremely surprised" by the plan, which he said showed "a lack of respect for common sense and arrogance towards science."
The United States has criticized the Chinese position, which White House press secretary Jen Psaki called "irresponsible and frankly dangerous."
WHO boss urges China to hand over vital Covid data, admits investigation has ruled out Wuhan lab leak theory 'premature'
PENTAGON GAVE $37 MILLION TO CHINESE WUHAN LAB-LINKED FIRM
The Defense Threat Reduction Agency (DTRA), the Pentagon subagency tasked with countering the proliferation of weapons of mass destruction including biological weapons, gave $37.5 million to EcoHealth Alliance, a firm that has provided funding to the Wuhan Institute of Virology (WIV), the Chinese virology lab from which COVID-19 has been suspected of leaking.
The DTRA funds to EcoHealth Alliance were documented by Independent Science News in a December 2020 spreadsheet and since reported by the Daily Caller. The spreadsheet documents funds from the DTRA going to EcoHealth Alliance beginning in 2013 and continuing into 2020. The Daily Caller reported five of the DTRA payments to EcoHealth Alliance are still active.
None of the DTRA contracts and grants to EcoHealth Alliance directly involve China, though the firm has received $6.5 million from the DTRA since 2017 to study "bat-borne zoonotic disease emergence in western Asia."
The Department of Defense did not return a Daily Caller request for comment about the DTRA payments.
EcoHealth Alliance is the same firm that reportedly transferred $600,000 in funds to the Wuhan lab between 2014 and 2019.
EcoHealth Alliance president, Peter Daszak, has also been one of the most outspoken critics of the theory that COVID-19 leaked from the WIV and may have had a key role in shaping early intelligence community assessments on the origins of the virus. Daszak reportedly played a key role in organizing a statement published in the Lancet Medical Journal in February of 2020, before there had been much research into the origins of COVID-19, denouncing "conspiracy theories" that the virus did not originate from nature.
Daszak was also the only American to participate in the World Health Organization's (WHO) investigation of the origins of COVID-19 in Wuhan in January. WHO investigators reportedly didn't even ask to see deleted WIV land databases containing information on at least 16,000 virus samples it had studied prior to the pandemic because Daszak personally vouched for the lab.
In emails belonging to Dr. Anthony Fauci, obtained through a Freedom of Information Act (FOIA) request by Buzzfeed show Daszak also personally thanked Fauci by email, "For publicly standing up and stating that the scientific evidence supports a natural origin for COVID-19 from a bat-to-human spillover, not a lab release from the Wuhan Institute of Virology."
In a May report by Republicans in the House Intelligence Committee, lawmakers raised concerns that opinions within the intelligence community that the virus originated from an outbreak at the WIV were suppressed while the intelligence community relied on assessments from outside experts with "concerning yet undisclosed entanglements" and "potential conflicts of interest—such as prior involvement with the Wuhan Institute of Virology."  American Military News
ECOHEALTH ALLIANCE
EcoHealth Alliance is a US-based[1] non-governmental organization with a stated mission of protecting people, animals, and the environment from emerging infectious diseases. The nonprofit is focused on research that aims to prevent pandemics and promote conservation in hotspot regions worldwide.
EcoHealth Alliance focuses on diseases caused by deforestation and increased interaction between humans and wildlife. The organization has researched the emergence of diseases such as severe acute respiratory syndrome (SARS), Nipah virus, Middle East respiratory syndrome (MERS), Rift Valley fever, the Ebola virus, and COVID-19.
EcoHealth Alliance also advises the World Organization for Animal Health (OIE), the International Union for the Conservation of Nature (IUCN), the United Nations Food and Agriculture Organization (FAO), and the World Health Organization (WHO) also on global wildlife trade, on threats of disease and environmental damage posed by these.
The National Institutes of Health (NIH) withdrew funding to EcoHealth Alliance in July 2020,[2] and resumed in August of 2020.[3]
History
Founded under the name Wildlife Preservation Trust International in 1971 by British naturalist, author, and television personality Gerald Durrell, it became The Wildlife Trust in 1999.[4] In the fall of 2010, the organization changed its name to EcoHealth Alliance.[5] The rebrand reflected a change in the organization's focus, moving from solely a conservation nonprofit which focused mainly on the captive breeding of endangered species, to an environmental health organization with its foundation in conservation.[6]
The organization held an early professional conservation medicine meeting in 1996.[7] In 2002, they published an edited volume on the field through Oxford University Press: Conservation Medicine: Ecological Health in Practice.[8]
In February 2008, they published a paper in Nature entitled "Global trends in emerging infectious diseases" which featured an early rendition of a global disease hotspot map.[9] Using epidemiological, social, and environmental data from the past 50 years, the map outlined regions of the globe most at risk for emergent disease threats.
As a subcontractor of the EHA, at least 600 thousand dollars of NIH grant money was provided to the Wuhan Institute of Virology to pursue sequencing and sampling work of coronaviruses in rural regions of southern China.[10][11][12]
In April 2020, during the COVID-19 pandemic, the NIH ordered EcoHealth Alliance to cease spending the remaining $369,819 from its current NIH grant at the request of the Trump administration,[13] pressuring them by stating "it must hand over information and materials from Chinese research facility to resume funding for suspended grant" in reference to the Wuhan Institute of Virology (WIV).[2] This was due to their bat research relationship with WIV, located near the epicenter of the SARS-CoV-2 outbreak, which has been the subject of a conspiracy theory about the origins of COVID-19 since early 2020.[14][15][16][17][18][19] The cancelled grant was supposed to run through 2024.[20] Funding from NIH resumed in August of 2020 after uproar from "77 U.S. Nobel laureates and 31 scientific societies".[3]
EcoHealth Alliance's funding comes mostly from U.S. federal agencies such as the Department of Defense, Department of Homeland Security, and U.S. Agency for International Development.[21][22] Between 2011 and 2020, its annual budget has fluctuated between US$9 and US$15 million per year.[23]
WHO IS GEORGE SOROS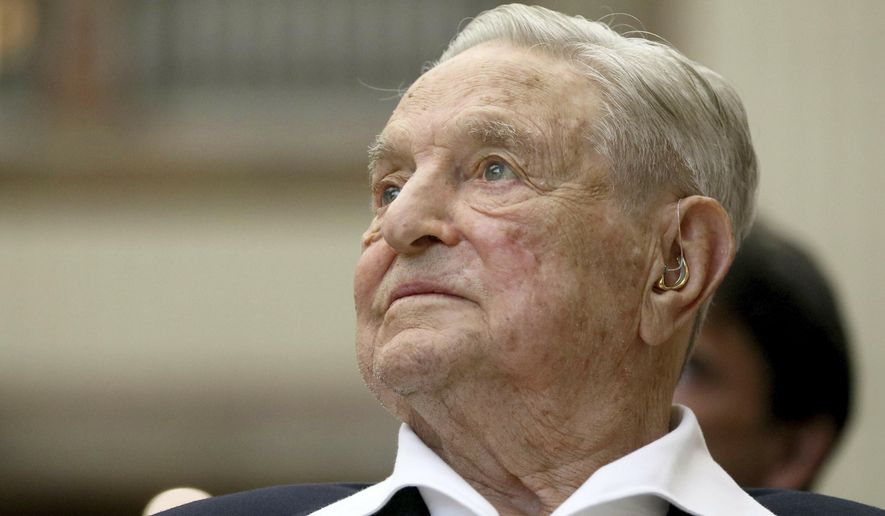 ANALYSIS/OPINION:
George Soros is 89 years old, but by gosh, before he dies, he's going to see to the internal destruction of America.
At least that's how it seems.
George Soros funneled $1M to defund the police movement as violent crime continues to surge
How else can we listen to his words in Davos, Switzerland, track his funding of American political races and pay attention to what he says about President Donald Trump, capitalism, and the leftist causes he backs and the leftist Open Society Foundations he runs, and come to any other conclusion?
"George Soros' quiet overhaul of the US justice system," Politico reported, way back in August of 2016.
It continues in present day.
"PAC funded by George Soros pumps nearly $1 million into local races for prosecutor," The Washington Post reported in June, about the money from the Justice and Public Safety PAC that went to the left-leaners of both Arlington County, Virginia, and Fairfax County, Virginia, commonwealth's attorney races.'
"Soros Adds Intrigue and $800,000 to D.A. Race, Backing Progressive," The New York Times reported in November.
The district attorney's office is one of the first local lines of defense of the Constitution and the rule of law. That means the potential for immediate progressive impact is huge — and it's an impact that can be had without all that costly political fighting over, say, a senator's seat, or a Supreme Court slot.Buying D.A. seats gives you good bang for the buck, in other words. And oftentimes, quietly, unbeknownst to those who might oppose.
That doesn't mean Soros isn't busily buying into congressional races, too. or the media. Or — and this, particularly in recent months — the grassroots.
Democracy Alliance, a nonprofit founded in 2005 to advance a progressive vision throughout America, and funded by wealthy elites, recently shifted its charitable giving strategy from think tanks in high-powered Washington, D.C., to small, mostly unknown groups in various communities. Why?
Call it — once again — under-the-radar influence.
Politico in 2018 described the process: "Kevin Rodriguez, a 19-year-old aspiring singer in tight jeans and gray-and-white Nike high tops, had never heard of the powerful progressive donor group Democracy Alliance. But he is a key part of the secretive billionaire club's plot to flip the Sun Belt. The donor clique, which counts George Soros and Tom Steyer among its members, is quietly giving funds to a handful of local grassroots groups like Rodriguez's employer, Living United for Change in Arizona."
It's a strategy aimed at quietly taking down President Donald Trump, one "new voter in rapidly diversifying states across the southern U.S." at a time, as Politico wrote.
It's a strategy that skirts the enemy's knowledge, and therefore, oftentimes, the enemy's win.
And it's a strategy that takes full advantage of dark money-type donations that are difficult to track and even more difficult to thwart.
It's one thing for Soros to take his hatred of this president and his disdain for free market America to the public stage — as he just did in Davos, when he criticized Trump as a "con man" whose "narcissism" has turned "into a malignant disease," as CNBC reported.
It's another for Soros to slide, on the sly, his anti-American influences deep into America's politics and culture. And now: education.
In Davos, he announced the infusion of $1 billion into a new Open Society University Network to fund schools around the world — to "educate against nationalism," is how the Financial Times reported it.
In other words: to train the next generation in the evils of sovereignty — to teach the emerging youth how to become good obedient citizens of the world.
Soros calls it his "most important and enduring project" ever. No wonder. It truly could be. If successful, it could mean the collapse of borders, the implementation of world government, the end of America as we know it.
If children are the hope of the future, America's children must be educated on the greatness of America — before it becomes too late and America, as a sovereign nation, hasn't any future at all.
https://bwcentral.org/2021/08/who-are-george-sores-black-rock-vanguard-glaxosmithkline-pfizer-wuhan-lab-and-other-connections-with-covid-19/