A SIMPLE PLACE TO START- SOMETHING WE CAN ALL DO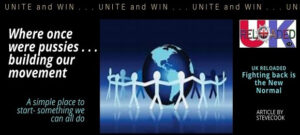 These quotes from the leading American people's warrior, Candace Owens, should be paid attention to. They provide a pretty apt description of the the situation we find ourselves in.
It is a sticky situation, sprung on us while we were asleep but there is no reason, given some toughness, fortitude and creative fire – qualities amply exemplified by Ms Owens – why we cannot deal with it and prevail.
For sure there are going to be, as in any war,  many casualties as the biological agents known as "vaccines" take their toll over the next few years and it will seem grim for a while but not as grim as it might have been had WWIII been of the nuclear variety.
It is time we all got creative building our new movement because it forms the germ from which somewhere up the line a better civilisation will grow. In the immediate term it comprises an army millions strong and we should not forget that that army will soon be swelled in numbers by millions of vaccinated people who realise they and their friends and loved ones have been harmed by a government that betrayed them with malice aforethought.

For sure the current civilisation is on its way out, dying from the multiple cancers of corruption, subversion and public apathy.
As it does so, those most likely to survive will be the tougher and more resourceful citizens, those unwilling to succumb and more able to work together to ensure something more just, decent and sane emerges from the current paroxysms of the civil war known as Tyranny versus The People.
The current troubles are sure gonna see the rise of a tougher breed of cat: tigers where once were pussies.
We can all contribute to this rise of the Strong. And we can start with something pretty basic, some simple actions that do not of themselves require any great heroism.
For example, we can all get busy and start forming grass roots networks of direct contacts (email, snail mail, person-to-person). We'll be glad of such networks if the enemies of the People take the internet down and through them we'll be able us to help one another, coordinate action and share resources and so forth and simply out-create efforts by subverted governments to intimidate or disenfranchise the Free.
This is not to be alarmist but simply to be prepared on the "lifeboat" principle: the ship may never sink but if you are smart you'll equip it with lifeboats anyhow.
With that in mind, please email my secure email address so that I can have you as a direct contact and do the same with all your friends so you can stay in communication come what may. And make sure you form contact networks with like-minded people in you local area.
If we are in touch, we can among many other things help one another if needed if the swamp creatures who have hijacked our governments start buggering about with the internet.
Those who have already emailed me, a big THANK YOU. I'll reply shortly – I am just a bit slammed at the moment. But please keep the emails coming.
Here is my own secure email stevecook1952@protonmail.com so please do drop me a brief hello.
Also I back up all my posts on the secure platforms TLBTALK.COM as well as Bastyon.com.
But please, this isn't about me. The effort here is to encourage you to do the same with all your friends, comrades-in-arms and allies, to build networks of communication lines that do not necessarily depend on the internet at all and thus are much more resilient and harder for the enemies of the People to cut.
Remember, there have been many great movements in history that brought about positive changes: the abolition of slavery, women's rights, democracy, the fall of the Iron Curtain and so on and all of them were done without the aid of the internet.
Perhaps ours will be the first social/political step forward to be accomplished with the aid of the internet as a tool, perhaps not. But we don't have to have it.
What we need is each other.
---
The People's Media
TLBTALK – FOR FREEDOM FIGHTERS