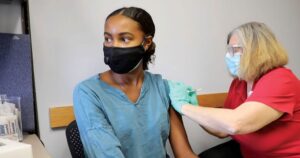 It appears the critics finally got to the U.K. Health Security Agency (UKHSA). The new Vaccine Surveillance report, released on Thursday, has been purged of the offending chart showing infection rates higher in the double-vaccinated than the unvaccinated for all over-30s and more than double the rates for those aged 40-79.
In its place we now have a table similar to the one below that I have been producing for the Daily Sceptic each week (though without the vaccine effectiveness estimates), and a whole lot more explanation and qualification.

Here are our updated charts of unadjusted vaccine effectiveness over time from real-world data in England.
HIDE THE VACCINE FAILURE: UKHSA CAVES TO PRESSURE AND REMOVES CHART SHOWING HIGHER INFECTION RATES IN THE VACCINATED – AS EFFECTIVENESS HITS NEW LOW OF MINUS-132%READ MORE
https://dailysceptic.org/