JOIN THE CONTROL GROUP AND REAL HELP SCIENCE AS WELL AS FREEDOM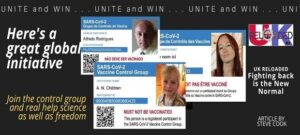 >So I just signed up myself and most of my dependents to the Vaccine Control Group and this is my ID card (each family member gets one). Sign up is easy and filling in the form on line only takes a few minutes.
It is free unless you want to receive in the post  a laminated ID card for each family member in which case I paid 20 quid for the whole family and then will pay about 2 quid per month. Your kids can be included and i imagine it would be very useful for them to be carrying the ID card at school in case any lunatic tries any funny business with so-called vaccines
As this is a global initiative cards can be issued in various languages.
Proceeds fund the costs of the research program which is entirely member-supported and entirely independent of Big Pharma, Government or any other criminal organisations.
By maintaining such a control group we will enable HONEST scientists to monitor more accurately the long term effects of vaccines upon overall health and longevity
From what I've read about vaccines historically where such comparisons have been able to be studied, the unvaccinated have shown up as much more healthy overall than the vaccinated.
However this needs much more thorough study and the huge INDEPENDENT worldwide control group study being featured here will provide a huge stride forward in or understanding.
So I consider that we unvaccinated have a civic duty to our fellows and to scientific integrity not to be vaccinated and maintain the existence of a large, very necessary control group. And of course we know that in the case of the SARS-COV 2 alleged virus not getting vaccinated is safer than getting vaccinated.
I recommend to all unvaxed that you sign up for this if you can.
Here is the website:https://www.vaxcontrolgroup.com
The only down side is my photo makes me look 103 years old