Morrisons CEO caught telling staff "Covid is the gift that keeps on giving" proving false claims of 'biblical' pandemic costs to justify discrimation of the unvaccinated
Anti-unsafe-experimental-vaxxers have said they will boycott Morrisons after it announced it would cut sick pay for unvaccinated staff because of "biblical pandemic costs", but footage has emerged of the Morrisons CEO proving this is a lie. The supermarket revealed it would cut payments to workers who had not received both jabs and had been advised…
Anti-unsafe-experimental-vaxxers have said they will boycott Morrisons after it announced it would cut sick pay for unvaccinated staff because of "biblical pandemic costs", but footage has emerged of the Morrisons CEO proving this is a lie.
Click on the link and watch the video. We have stopped shopping in Morissons.
Via Charles Vickers daily update from English Democrats.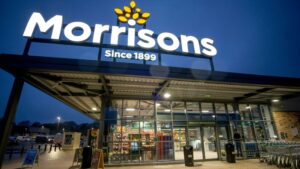 They were slipping into nonsense two years ago…
https://tapnewswire.com/2020/02/the-world-gets-dumber-by-the-day-morrisons-supermarkets-to-the-fore/