The Australian government has placed the ultimate siege. No travel allowed. Quarantine in place. Get the jab or you cannot work. You cannot receive at least foreign mail. There are ZERO commuter flights over Australia at this time with a few military flights and a few courier flights. It is perfectly clear the Australian government has issued an ultimatum: Get double jabbed, or get genocided.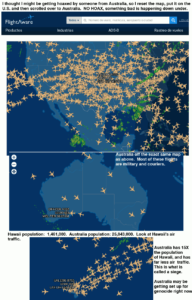 It is SO BAD that Americans trapped in Australia cannot even go to the embassy and even if they could, even the embassy cannot arrange a way for Americans to fly out.
Earlier today I reported that the USPS and now confirmed other mail carriers are no longer delivering to Australia. Anything addressed to Australia is being sent back "return to sender". If Australia had a legit plague going on, why would they block incoming deliveries? Answer: There is no plague, Australia is being set up for genocide. Genocide is the only conceivable reason to block all INBOUND deliveries that would be needed to support a population in trouble. The government wants supplies to dwindle to zero without replacement. That air traffic map makes this perfectly clear.
LOOK AGAIN AT THAT AIR MAP. THAT IS WHAT A GUN BAN LOOKS LIKE.
http://82.221.129.208/1/.ud6.html
www.jimstone.is