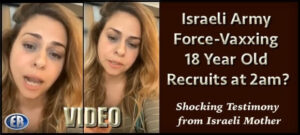 ER Editor: We have no reason to doubt this testimony, which was recently published on a French site dedicated in a personal way to Israel, and Jewish news and cultural matters.
If this testimony of attempted (and successfully executed) forced vaccination of 18 year olds in the middle of the night at an army base is true, it just adds to the bewildering, horribly ironic situation of Israeli elites using their own people as medical guinea pigs. This mum does raise the Nazi theme, quite rightly.
Fortunately, the girl in question was not vaccinated because she fought back hard. At least we can say that they didn't ultimately force her 100%. But many others were, who didn't have the personal strength or development to stand up to uniformed-authority-figures who literally SAT ON the young girls, ordering them to be vaccinated immediately. Reflect on those words. How many 18 year olds anywhere would have this kind of strength? Very few indeed. What kind of society would do this to their young? Isn't the military supposed to protect its citizens from foreign enemies?
When did Israeli youth fall into this category?
The mother speaks in Hebrew, and the video is subtitled in French. Below, we have provided our own translation of her words. The 6-minute video is worth listening to for the human element.
********
An Israeli mother's cry of despair about the IDF's methods for vaccinating soldiers
Danilette.com
Here is the testimony of an Israeli mother who cries out in revolt against the methods used to force young Hayalim Hayalot to be vaccinated. This mother of a young soldier of 18 years old, who has been in the army for 2 weeks, alerts us to the inhuman treatment that young recruits are subjected to in order to vaccinate them by force. It's an absolute sadness, I prefer to let you listen to it without adding my comments, translating and making these subtitles made me sick with sadness in front of what becomes Eretz Israel. Video youtube.
********
ENGLISH TRANSLATION of VIDEO
I'm going to tell you what happened to my daughter. She entered the army a week and a half ago. She's currently in a period of training. Yesterday she called me at 1:30 in the morning. She described to me a scene from a sci-fi film where a group of officers, male and female, even with a nurse, woke them up with violence and intimidation. These young men and young girls who are in their training period. They told them they had 1 minute to get up, and when they got up, they were told they had come to vaccinate them. These kids had been up for 16 hours of hard training, she told me they had fallen down from fatigue. Therefore, when they finally get to sleep, they wake them up at 2 o'clock in the morning telling them 'we're going to vaccinate you' so that the same soldiers cannot oppose it.
Understand that this is serious. How these acts lack humanity, how these acts are against our children, how they utilise a perverse, sick psychology to neutralize the opposition of these young people and young girls. I must tell you that my daughter and 3 other girls in this large military unit were the only ones to successfully resist this. They almost succeeded in making them capitulate. My daughter explained that she had had the virus a month and a half before, so she was cured and had no need of a vaccine. And the commandant arrived with a group of female officers who sat on my daughter, including the nurse. And they told her, 'you are obligated to get vaccinated now. These are the orders of the army.' She replied, 'you cannot vaccinate me. It's not legal.' My daughter fought, she called me crying. She was in a state of shock. She said to me 'Mum, they're trying to kill us here. It's like a rape to vaccinate us.' My daughter's tough; I brought her up like that. She defended her position, she even protected the bodies of 3 other girls.
I asked her to put me in contact with the families of the 3 other girls who were saved from this vaccine, this injection so that we can organize a protest in front of the army base. I want to speak to the Prime Minister, to the Minister of Defense, I want to speak to the commander of this southern base. I want to know what they are doing to our soldiers, to our children during the night while they wake them at 2 in the morning, telling them they've come to vaccinate them, vaccinate them without opposition because they're in the middle of going to sleep. They wake them, they frighten them. She told me that 10 girls refused, but had 20 officers on them, so they finally gave in and took it. That these girls had asked these officers to be able to call their parents for advice. They asked not to take the vaccine and that they wanted to get their mothers' advice. These same officers said 'you don't have the right to make such a call and you are taking the vaccine immediately.'
My friends, what happened here is a crime against humanity, it's a crime against our children. I have nothing to say. We cannot send our children into the Israeli Defense Army if they act like this with our children, with this contempt, with this basic lack of respect for humanity. So we cannot continue to send our children into this army. I ask you to alert, to tag all the lawyers of this country because today it's my Hayelet, my soldier, tomorrow it will be yours, your female cousin, your female neighbour. What we are undergoing today is horrible. (pause)
I'm lucky because my daughter was strong enough, but do you want to listen to that? She called me at the very moment, and I didn't know how to help her. I said, 'my beauty, hold on, resist, they cannot vaccinate you by force. I promise you I'm going to get you out of there. I'm coming with a battalion and I'm going to get you out of this place.' She told me a friend had called her cousin who's currently training at a base in Golani. She said it's written, there is a team that goes into the military bases at 2am to wake up the soldiers when their ability to resist is weak and to vaccinate them by force. You're hearing what I just told you? You heard – these criminals are vaccinating by force. Now, concerning my child, what was said to her was simply there were some vaccines left over. They should never have woken them up at 2 o'clock but it is simply that there were vaccines left. And that is an absolute lie. Pay attention to these psychopaths, these lies. What they are doing is the Fourth Reich, and what they are doing is Nazism. It's simply the continuation of Nazism. To wake up 18 year olds and tell them to 'get up, we're going to vaccinate you now'. And what is the craziest thing? It is that these soldiers at Golani saw it's all planned what they're going to do and they lie. They lie like they lied to the Jews telling them they were going to take a shower and after, you'll have a hot bowl of soup and a job. And they entered into the death showers. (pause)
Don't send your children into the army. The army is dangerous. We no longer have an army in Israel. I have nothing more to say as a mother. It's over, I'm finished. I'm finished with the State of Israel. It's over. To vaccinate my daughter like the equivalent of rape. I'm finished with the State of Israel. (Thank you to Cathy Stora, subtitled by danilette.com) Please share everywhere. Thank you to everyone.
************
Published to The Liberty Beacon from EuropeReloaded.com
Distraught Israeli Mother Describes Attempted Forced Vaccination of Her Child [VIDEO]