I don't know who discovered this, it was just suddenly on all the forums. Is it really child trafficking by Wal Mart? I gotta say, I'm stumped for another explanation. If you type $5000 shoes into Walmart.com, other single shoes come up also. This is NOT for a PAIR of shoes, it is for ONE SHOE.
Really look over the ad. It specifies "young and junior aged girls", is for ONE SHOE, the sku is listed as "parent", it is not available in store, the brand is "CHINESE dirty laundry" (probably a Chinese girl), the size is 6 (probably for the age) there are no reviews of this product and they have ONE in stock. Why no reviews? Because no one else bought it yet, yet Wal Mart has only ONE in stock????
This story is going to EXPLODE if Facebook does not shut it down, right or wrong this really does look like child trafficking.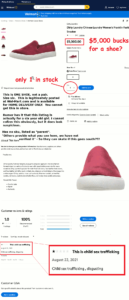 http://82.221.129.208/.uf2.html
www.jimstoneis