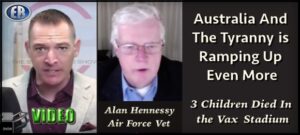 ER Editor: This is a truly worthwhile video discussion between Stew Peters and Alan Hennessy, a 45 year veteran of the Australian Air Force, but it is not easy to create notes for. Hennessy covers a lot of ground on the current, tyrannical situation in Australia.
We especially recommend watching the few minutes of footage that Peters runs at the beginning, where NSW health minister Brad Hazzard using a talk-over strategy of fake outrage to avoid a doctor in his ministry having to answer questions put to her by a panel of enquiry on a zoom call. It's govt tyranny and unaccountability par excellence. Hazzard was the one who, recently, publicly announced the vaccination of 24,000 young people, who would be herded into a stadium. See Australia Has Fallen: 24,000 Children Herded into Vaxx Stadium, Parents Excluded. We get an update on this story, which is that THREE children (two boys and one girl) died following the vaccine, according to Hennessy. Our partial notes are below.
MSM is blackballing all this. It's as if Australia is a test case. Melbourne is on the long list of 'safe cities' that includes cities in the US, too, which are all test cities.
Border residents between Queensland and New South Wales (who normally simply cross their street within their communities to be in the other state) have had crushing restrictions put on them. You may have to travel miles to get to a service you need within the same state instead of simply crossing that road to get what you've always accessed in the other state. It's that insane for people whose communities straddle the state borders. And if you cross the border simply to go to your place of work, you can't. All government restrictions have to be followed, so crossing the border is only permitted to get essential goods and services that cannot be obtained in your own state. So if you need a hospital nearby but it's in the other state, you'll have to travel within your own state, regardless of the distance, to get that same hospital service.  Children can't go to school around the corner in the other state as they used to. If you do cross the border for a non-approved reason, you have to return BY AIR and quarantine for 14 days at your expense, even if you just wanted to drive to a friend's a mile away.
Eight unelected bureaucrats are making up these regulations (not laws) across the board. Probably the WEF and WHO are directing them. Police are enforcing them, but the Australian army is enforcing them at the border of Queensland and NSW. Provincial premiers have no authority to call in the army, which is under federal jurisdiction (see the interview with centre-right MP Craig Kelly (pictured), who is under quarantine himself in Canberra, seat of the federal government). Even if the Queensland premier is answering the call of the Prime Minister, the army is only there to defend the Australian constitution. Trade, commerce and intercourse between states should be free under the constitution. So the army is violating the constitution that they swore to protect. No state premier can simply 'call in' the army. Army commanders and troops should also refuse this order for its unconstitutionality. Border controls are also unconstitutional. Now, trucking companies are going to be retaliating against the government for being obliged to be vaccinated; these are trucks full of food. They'll be holding border blockades and similar at ports. And NSW is introducing a whole slew of new restrictions for Monday under health minister Brad Hazzard. So police can lock down apartment blocks, for example, or declare premises/housing closed and oblige residents to report to police; If you're found outside your area (or 'county' in the US), you can be fined $1,000; you have to wear masks outside except for exercise. In Melbourne (capital of the notorious state of Victoria with a far-left govt under Dan Andrews), there are curfews from 9pm to 5am; construction sites have to reduce staff to 25%; you need a permit to go to school or university.

Why aren't people fighting back? What are they specifically afraid of? Govt and media are complicit; even Sky News Australia has fallen in line spreading the lies. People are just blindly following: it's Stockholm Syndrome on steroids.

Hennessy: We're not trying to wake up the jabbed or the blue pilled – they're a lost cause. We're red pilled looking to wake up similar-minded people, and it's happening.
Breaking News: There is a 1km travel limit in metropolitan Melbourne: shopping can be done ONCE a week, no coffee shops or food outlets can open; exercise is for one hour a day within one kilometre of the home; the construction industry is completely closed; there is no childcare – and this will last beyond January 1. Residents will be locked down in hot-spots. This is breaking news. No-one below the age of 65 will buy food except online; healthcare, pharmacy and medical workers can leave their homes, as well as the elderly, who can shop for food outside for one hour.
Where does this stop? It just keeps coming. If you're silent, you're complicit. Hennessy is part of a team of lawyers (he's ex-military) who have targeted people; Hennessy's job is to rally the troops to get people to wake up.
*************
Three Kids Dead After Mass Vax in Australia – Aussie Vet Updates Stew Peters [VIDEO]