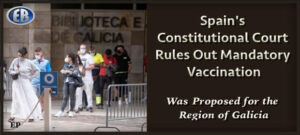 ER Editor: We're happy for the people of Galicia, the north-west region of Spain where mandatory vaccination was being considered a few months ago. See this report from February of this year – Spain's Galician Health Law Includes Mandatory Vaccination And So Much More …
The date of the story below is July 23, 2021.
********
The Constitutional Court closes the door on compulsory vaccination with the current law
It approves maintaining the suspension of forced inoculation in Galicia because "it supposes a coercive corporal intervention and practised outside the will of the citizen".
MELCHOR SAIZ-PARDO
The Constitutional Court has almost definitively closed the door on the administrations being able to impose forced vaccination, even in a pandemic, at least with the current legislation.
The Plenary of the court, unanimously, has agreed to maintain the suspension of the provisions of number 5 of art. 38.2 b) of the new Galician Health Law, which empowers the regional health authorities to impose compulsory vaccination on Galician citizens, in order to control transmissible infectious diseases (any, not just covid-19) in situations of serious risk to public health.
In summary, the Constitutional Court, whose rapporteur was the magistrate Andrés Ollero, argues that the anti-vaccination measure cannot be imposed because there is currently no legal cover to punish refusal to be inoculated. The ruling stresses that compulsory vaccination is not a preventive measure that is expressly contemplated in Organic Law 3/1986, on Special Public Health Measures, so there is no legal umbrella that covers a forced injection that "involves a coercive bodily intervention carried out outside the will of the citizen".
The court alleges that lifting the suspension of the precept that authorises the forced vaccination of Galicians, which it decreed last April, could "cause certain and effective damage that could be irreparable or difficult to repair, insofar as the vaccination could be imposed against the will of the citizen".
Last spring, the Court of Guarantees automatically put part of the new Health Law on 'stand by' after admitting an appeal for unconstitutionality presented on 30 March by the central government against the reform of the regulation promoted by the regional executive of Alberto Núñez Feijóo and approved by the regional parliament.
Fundamental rights
Pedro Sánchez's government appealed against the law, on the grounds that it limited the fundamental rights of citizens, something that should be done through an organic law and not through a regional regulation.
The ruling announced this Friday, according to court sources, is not the final ruling on this controversy, but it does anticipate the position of the Constitutional Court, which is unlikely to contradict itself with a ruling that is contradictory to today's resolution.
Numerous legal experts have argued since the beginning of the health crisis that compulsory vaccination could only be imposed by a thorough reform of the current Public Health legislation of 1986 or by a pandemic law.
************
Published to The Liberty Beacon from EuropeReloaded.com
Spanish Constitutional Court Says No to Mandatory Vaccination