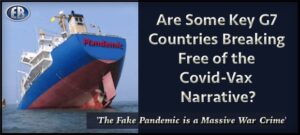 ER Editor: We came across this piece on Benjamin Fulford's site in an August 30th post titled 'More Rats Abandoning the Biden Ship'. (Most of it lies behind a paywall.)
This is part of the framing comment from Fulford about Germany's and Japan's developing positions vis-a-vis the 'plandemic.' As many readers will know, Fulford has a wide range of ears to the ground, including intelligence service and government people in several countries. His perspective may carry weight:
Already we are seeing signs that Germany, Japan, and other supposed allies of the U.S. regime are breaking ranks.  The immediate trigger for this is a growing realization that the fake pandemic is a massive war crime.

In Germany, a legal team has been running an exercise for a new government structure with a priority to stop all Covid-19 injections because they are unsafe. https://www.bitchute.com/video/5Rf83cc8FDPB/

German allies like Denmark are planning to end all Covid-related measures by October. https://freewestmedia.com/2021/08/09/denmark-abolishes-all-corona-measures/

In Japan, Tokyo's Medical Association Chairman Kazuhiro Nagao held a press conference on Japanese TV where he came out against vaccines and says he's used #ivermectin as an early treatment for over 500 covid patients with a practically 100% success rate.  Nagao has asked for nationwide use. https://www.bitchute.com/video/R1vBnnGUpzxh/

Tokyo's Medical Association chairman also went public noting how countries that distribute ivermectin to the public have far lower rates of Covid and mortality from illness. https://twitter.com/brenontheroad/status/1429624844379824129

Around the same time, Moderna got busted for contamination with "foreign substances" that appear to be magnetic and the Japanese government started recalling 1.63 million doses of the mRNA jab. https://asia.nikkei.com/Spotlight/Coronavirus/COVID-vaccines/1.6m-Moderna-doses-withdrawn-in-Japan-over-contamination
See also this on Japan: Moderna Vaccination Halted in Japan's Okinawa Prefecture, and Japan suspends Moderna Covid vaccine after another million doses found contaminated, bringing total to 2.6 million.
****
We remind readers that the editor of the influential Bild media outlet had already apologized to the children of Germany for basically lying to them over the plandemic. See German Media Outlet Issues Remarkable Apology for Lies and Harms Done to Children [VIDEO].
And this: More Than 23,000 German Doctors Have Quit the Genocide Campaign
****
Here is the curious role-play announcement made by Stephan Kohn on the suspension of vaccination in Germany (see video below). Stephan Kohn's presence is not insignificant. He is a senior civil servant with the German interior ministry who wrote a damning 86-page report criticizing the 'plandemic' measures for wreaking harm on the country, indicting the influential Robert Koch Institute. For this he got suspended. See this Daily Sceptic report on this from May 2021: Leaked Analysis of the Impact of the Lockdown by a Senior Official at the German Ministry of the Interior. That this video below has people worried is indicated by a troll report. For fun, see https://www.techarp.com/science/germany-covid-vaccines-on-hold/ Point no. 6 says that 'Covid 19 Vaccines are Safe and Effective'. Enough said.
Reiner Fuellmich is mentioned toward the end of the video.
***
In the 2-minute video below in German but with English voiceover, Stephan Kohn explains – in a role play situation that Fulford has already alerted us to above – that the new minister of health has appointed Kohn interim president of the Robert Koch Institute. His job is to implement new decision-making for the Koch Institute and inform the public about them. The German government has been re-evaluating the risks around the coronavirus, which are seen as 'very low for the time being'. Criteria for estimating the hazards moving forward into the autumn and winter are being re-evaluated. 'That is good news, and that is going to give most of you relief.' Meanwhile, his team have been obtaining reports on the side effects of the Covid vaccines, which have triggered the government to pass a moratorium, meaning the vaccines are not recommended any longer. Further, the licence for the vaccinations has been put on hold for the next 2 weeks making vaccinations impossible for the moment. All competent government bodies are going to obtain information in order to permit relevant government bodies to reach sound conclusions on how to proceed. "Dear citizens, please stay confident. You can rely on the federal government to do everything possible to come to decisions with all due diligence to handle possible risks we may be facing and develop the respective solutions. Dr. Reiner Fuellmich has set up a government team of excellent experts, especially in the area of health. So I will keep you informed about the developments and wish you …"
https://www.bitchute.com/video/5Rf83cc8FDPB/
************
Published to The Liberty Beacon from EuropeReloaded.com
Is The Tide Turning Against the Fakery? Some G7 Countries Starting to Break Ranks