The plane was a DECOY PLANE, not a real one.
No one fell off a plane, those videos were faked. HERE IS PROOF.
HERE IS THE VIDEO OF THIS(look at the plane windows, it is a blow up vinyl toy!! The engines are empty too.
The turbine noise is way too quiet and is probably from the inflator. That is probably why people could "talk right over the turbines" in other videos of this.
Here is a capture, but the video shows it a lot more clearly. I was baffled by the video that showed them riding on the outside because the engines were not producing back winds and everyone could talk right over them which would be impossible. As it turns out, IT WAS IMPOSSIBLE and it never happened with a real plane.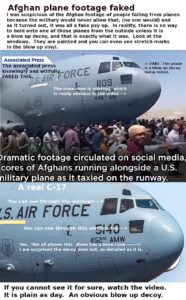 I was not concerned about Afghanistan because it all seemed surreal. AND it was surreal, every last headline is probably faked, and everything from this point forward is probably fake, they'll "commit an atrocity" to make it possible for (whoever) to blow them away and take 1 trillion in rare earth mineral reserves once and for all.
They CANNOT GET OVER THAT PLANE, THIS IS FAKE FAKE FAKE!!!!
Why were the Afghans smiling and waving at the cameras if they were so desperate to get out of there? ANSWER: They were actors, excited to be getting paid to "be in a movie". That's the only plausible answer.
http://82.221.129.208/.uf9.html
www.jimstone.is