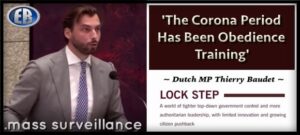 ER Editor: On the Rockefeller's clairvoyant Lockstep plan from over 10 years ago, we recommend this piece we published last year by F. William Engdahl, titled COVID-19 and Total Social Control: 'This is No Futuristic Scenario', with links to the original Lockstep report.
The speech Thierry Baudet gave to the Dutch parliament happened early last month, and has since been removed from Youtube. There was a follow up interview with Baudet after this. Here it is:
https://youtu.be/DFNZdAzqXEg
********
Thierry Baudet exposes globalist conspiracy to use the pandemic for 'obedience training'
In an explosive speech in the Dutch parliament, party leader Thierry Baudet revealed that many of the draconian pandemic measures that governments around the world have subjected their populations to for more than 15 months are contained in a document that is more than ten years old.
FREEWEST MEDIA
The document was published by the globalist Rockefeller Foundation and describes a future scenario called Lock Step, in which all the world's governments coordinate to impose restrictions on humanity, tighter control, mass surveillance and a new global authoritarian regime.
How is it possible that a ten-year-old document by an influential globalist NGO predicted Covid?
All over the world, shutdowns have made governments more authoritarian and taken away citizens' rights on an unprecedented scale. In his speech before the Dutch Parliament on June 4, the leader of the FvD warned legislators: If we continue on this path, we may lose our freedom, our prosperity and our sovereignty.
Baudet unveiled a decade-old globalist scenario for an apocalyptic future planned and implemented by globalist forces to cause mass hypnosis and take political control of large parts of the world under the pretext of a viral pandemic.
The Rockefeller Foundation competes with, among others, the George Soros Open Society Foundations to make gigantic "investments" in globalist and left-wing radical organizations that want to advance Marxism.
Here is Baudet's speech, translated into English, before the Tweede Kamer:
Madam President, in 2010, the Rockefeller Foundation, one of the most influential non-governmental organizations in the world, developed a number of scenarios for the future of technology and international development.

This report [Baudet holds up the document]. And in this report, the Rockefeller Foundation proposes the so-called Lock Step scenario, about the emergence of a worldwide pandemic and its consequences. This already in 2010.

According to this scenario – and I have this with me – the Chinese would be the first to start with "necessary quarantine for all citizens" – that is a quote – and immediate and almost hermetic closure of all borders.

National leaders around the world would strengthen their power with laws, rules and restrictions, from the requirement to wear masks to body temperature controls to gain access to train stations, aircraft, buildings. Everything is here. But it does not even end there.

According to the Lock Step scenario, we have much more to look forward to: "Even after the pandemic is over," the researchers write, "authoritarian control would remain, with monitoring of citizens and their activities, and they would even intensify." This report from 2010 even hints at Climate Lockdown.

This is exactly what they have already started to discuss as we speak. I quote: 'To protect against increasingly global problems – from pandemics and cross-border terrorism to environmental crises and growing poverty, leaders around the world will increase their grip on power.'

And the report also predicts well how citizens would react to all the regulations. Unfortunately, I have to say. Just as is happening now, people are screaming for joy when they get vaccinated, with pictures of their injected arm on social media – everything is in this report – and they are begging for a Corona pass, the authors of the Lock Step scenario predicted, just like I said. The more controlled world becomes, as they predicted in 2010, the more acceptance increases among the people. Citizens voluntarily relinquish some of their sovereignty – and integrity – in exchange for more security and stability.

Citizens were more tolerant and even eager to receive more inspection and oversight. National leaders were given greater freedom to create order in ways they saw fit.

That this would lead to a digital passport, the authors of the Rockefeller Foundation report had also predicted. In 2010, the Rockefeller Foundation could not literally predict the current state of affairs, but they then believed that tighter supervision would lead to a biometric ID for all citizens. And it is now in our [travel] paper passes.

The digital vaccination passport is just a part of it. Only 13 years after the pandemic would the public, according to the Rockefeller Foundation, realize that they have been deceived, fed up with the controls and the government's absurd fantasies of power.

And Madam President, I still hope that the Rockefeller Foundation is wrong on that point. All their predictions have come true, but I hope they are really wrong here, that we will wake up before that time. That we realize that this is a collective psychosis.

That the closure of our country, of half the world, which has lasted a year and a half due to a flu variant, is madness. That we live with this bullshit – non-functional masks, that we follow the completely meaningless distance rules. And see our companies, our social lives broken down.

When we have fantastic first-class drugs like Ivermectin banned, it only accelerates experimental injections that are given the status of "approved vaccines". That we fret about "the infection is coming back," when, of course, it happened last year, just as it does every year, as usual, because with autumn comes a new infection, just as it always does.

And we pretend that it is due to Corona, which we previously called the flu, which seems to have disappeared completely.

But the most important thing is, and this will be my concluding words, is that we realize that with this pretext, a form of hysteria over this "Chinese flu", an infrastructure has been put together that at any moment, due to any random event, can be used by the authorities again – just like shutdowns, masks, social distancing, no longer being allowed to travel, no more shaking hands – paving the way for absurd experimental injections.

This Corona period has been obedience training. The Second Chamber and the [Prime Minister Mark] Rutte government have carried out this training in a brilliant way. Congratulations! Klaus Schwab can be proud of you. The globalist plan has found the gateway, and the next step towards mass surveillance and total control can now be taken.
According to Baudet, the unscientific nature of the Corona passport is apparent from the fact that those who have been vaccinated could still have and transmit the virus, the PCR test produces false positives, and no one is allowed to prove that they have antibodies. Only a positive PCR test of six months old is allowed as 'proof of recovery'. The serological test for antibodies is not recognized, while Israel does for its Corona passport, and the FDA approved no fewer than 81 serological tests.
"A passport like that means nothing to me; it does not prevent transmission," said Dutch medical microbiologist Alex Friedrich in an interview with RTV Noord. There are all kinds of exceptions that make such a passport unreliable. "You also have non-responders, people who do not have an immune response after a vaccination or infection. So you cannot say that someone is immune; you only know that if you do a serological test." And that is not allowed.
************
Thierry Baudet Exposes Globalist Conspiracy to Use the Pandemic for 'Obedience Training'