It appears for a split second. It was scrolled through and not presented properly. During that split second, this screen, which shows the adverse effects of the jab that they KNEW OF in October 2020, before they even allowed it to be used. Knowing this, they then proceeded to allow it to be used. Technically they can say they showed everyone this because in their book a split second counts.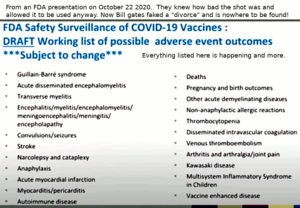 INTERESTING! LOOK AT THE LAST ONE – VACCINE ENHANCED DISEASE!!!! THEY KNEW!!
I don't think this video will survive, so I am putting it here.
In this video, senator Dick Durbin says, in a fruedian slip:
"Here's the reality:
We have millions across the world who have died of this vaccine.
We may never get an accurate count."
That is too much of a statement for it to not be real, HE KNOWS, and he had a brain cramp and spilled it out.
Click to play, right click to save.
http://82.221.129.208/.uj0.html
www.jimstone.is