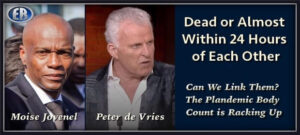 ER Editor: While the assassination of Haitian president Jovenel Moise on July 7 has hit the headlines, less so the attempted murder of Dutch investigative journalist Peter R. de Vries on July 6, who was involved in investigating many high-profile cases including JFK's assassination, and was under police protection at the time of his shooting. Here is a New York Post article from July 6, titled Famed Dutch crime reporter Peter R. de Vries shot in head on Amsterdam street.:
Famed Dutch crime reporter Peter R. de Vries is reportedly clinging to life after getting shot on an Amsterdam street on Tuesday.

De Vries, a celebrity in the Netherlands known for exposing the criminal underworld, was blasted in the head shortly after leaving the studio of Dutch broadcaster RTL, police officials and the media network said.

Three suspects, including the possible gunman, were detained after the shooting, police said.

"He was seriously wounded and is fighting for his life," Amsterdam Mayor Femke Halsema said in a televised news conference.
This NLTimes report discusses his current involvement in a criminal underworld case:
De Vries was participating as an advisor to Nabil B., the prosecution's key witness in a trial involving alleged drug kingpin Ridouan Taghi. The trial, known as the Marengo process, involves multiple cases of street-level assassinations, attempted murders, and assassination plots that were not carried out.
But as the article below from El Diestro questions, how do we link the assassination of Haiti's president and the intended murder of De Vries? Can we? It is claimed that De Vries had been in touch with Moise just prior to the attack in Amsterdam; attacks on both men followed in fairly quick succession, with De Vries being gunned down around 6:30pm on Tuesday, July 6 and Moise in the early hours of Wednesday morning, July 7. Were they in touch? Clearly, both would be under the monitoring of deep state intelligence. We remind readers that the former Haitian president would not subject his people to vaccination.
***
The El Diestro article uses an article from the site 'What Does It Mean' to unpack this story. On first glance, we found the site to be sensationalistic and of an appearance that is usually designed to titillate rather than give hard evidence. However, the many links to stories it provides (and we have clicked on almost all of them) come from sites that we have published from ourselves from time to time. We therefore see nothing wrong in the (reasonable) speculations it makes.
***
We remind readers of strange deaths, outright murders, or assassination attempts of people linked in any way to the plandemic scenario, be they leaders of countries, anti-vaccination activists, the PCR test investor, or young researchers desirous to pin down the genetic identity of the virus:  Dr. Kary Mullis; Alexander Lukashenko; Brandy Vaughn; John Magafuli; Serge Rader; Dr. James Taylor; Dr. Bing Liu. There are claims that other African leaders, in addition to Magafuli, have also lost their lives because of their non-compliance with the globalist pandemic agenda. Can we now add two more victims to this list?
********
Russian intelligence website links the assassination of Haiti's president to the shooting of a Dutch investigative journalist and all linked to, among others, Bill Gates
EL DIESTRO
This week the president of Haiti, Jovenel Moïse, was shot dead in his own home. The 53 year old president died instantly while his wife, who was also shot, was seriously wounded and her state of health is not known at this moment, although there have been rather confusing news indicating that she had also died.
But on the same day, shortly before the assassination of the Haitian president, there had also been an attack in the Netherlands on investigative journalist Peter R. de Vries, who was shot in the center of Amsterdam on Tuesday after participating in a television program. Although de Vries has not died, his condition is very serious as he was shot in the head.
There have been many rumors about the murder of Jovenel Moïse because his country was the only one in the world that was not being vaccinated against the virus due to the opposition of the president and also of the population itself, which was very reluctant to be inoculated with this experimental drug. But his murder has also been linked to the very serious problem of child trafficking in his country and the fight he was waging against it.
What is clear is that both the assassination of the president and the attack against the Dutch journalist have not been casual since, in the case of the journalist, he was immersed in investigations even related to the virus, and in the case of the president, it seems a clear international conspiracy since, according to witnesses, the accent of the assassins was clearly American and they even identified themselves as DEA agents.
In addition, according to several media reports, 15 Colombians and two Americans have been arrested in Haiti on charges related to the assassination. It is believed that there are at least 28 people involved in the murder, three of whom are dead.
Seen in this way, and although the dates coincide, it seems very difficult to link Moïse's murder with the attack against Peter R. de Vries in Amsterdam, but the Russian intelligence website 'What Does It Mean' links both attacks in an article entitled: "The famous Dutch reporter and the Haitian president were killed for investigating Bill Gates' link to the Covid-19 patent".
It seems that de Vries had been investigating the famous 201 event organized by Bill Gates in 2019 and which, as you all may know, served as a sort of prelude to what we would later begin to suffer in 2020 with the virus: "As for the current main case that Peter R. de Vries was investigating, this report notes that it began when Bill Gates, under the umbrella of his Bill and Melinda Gates Foundation, brought together more than 300 elite socialist individuals from public and private institutions and 40 developing countries' government health programs in the Netherlands to map out vaccination strategies for children (ER: This comes from the Bill and Melinda Gates Foundation site in a press release we believe comes from November, 2000, although it is difficult to determine); in October 2019, Bill Gates gathered these elites in the United States for the global pandemic exercise called Event 201, which was followed a few months later with this "exercise" coming to fruition when the Covid-19 Pandemic began to sweep the world, which was when Peter R. de Vries became alarmed by a coronavirus application that Bill Gates and his elite socialist forces began to deploy in the Netherlands, about which De Vries stated:
"Privacy is a very sensitive thing… We should not focus on the positive effects and see what it means for the future… It only works if a lot of people use the app… People should indicate that they have coronavirus… But does everybody do it? … Or just not to spread panic? … Privacy watchdogs rightly say, "where does it start and where does it end?"… In my profession, phones are also used for tracking… And it is already the case that a harmless app like a pedometer is widely used in solving homicide cases… And, of course, it was not designed for that". (source/in English)
They further add that "right after Peter R. de Vries raised these concerns, this coronavirus app leaked all of its most private information, as well as other private information, after which De Vries began an investigation into why Covid-19 was discovered circulating in the United States in September 2019, a month before the Bill Gates Pandemic Exercise Event 201, which took place in October 2019 (ER: we have published extensively on how unidentified respiratory cases were cropping up through 2019 on US soil); then saw De Vries investigating why The Bill and Melinda Gates Foundation, along with U.S. and U.K. defense agencies, the World Health Organization, and the European Commission, applied for and received U.S. and U.K. patents for the coronavirus in November 2018. U.S. and U.K., the World Health Organization and the European Commission, applied for and received U.S. AND U.K. patents for coronavirus in November 2018."
At the end of that article there is mention of the reason they link the two attacks, and it is none other than the meeting of big media kingpins in Idaho this past week:
"Before Peter R. de Vries was shot and killed (ER: as far as we know, he is not dead yet), he made extensive inquiries about a top-secret meeting taking place in Idaho this week attended by all the leaders of America's top left-wing media, tech giants and the U.S. government intelligence community, consultations that led de Vries to contact Haitian President Jovenel Moise for reasons as yet unknown (ER: we have no MSM report or link for this), but in the hours after de Vries was shot the Haitian president was assassinated in his home."
Obviously, we do not know the veracity of everything reported by this website, which, on the other hand, has always seemed to us to be very reliable in its information. What is clear is that this whole issue of the virus is more a matter of economics and power among the great elites than of health.
We will try to continue gathering more information about these matters since both attacks are, to say the least, strange and too coincidental in time.
************
Published to The Liberty Beacon from EuropeReloaded.com
Russian Intel Site Links Assassination of Haiti's President to Shooting of a Dutch Investigative Journalist & All Linked to, Among Others, Bill Gates