YOUR MIND IS YOUR MOST POTENT WEAPON AND TRUTH IS ITS AMMO – MAKE SURE IT'S LOADED!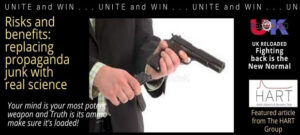 The following excerpt is from an article by the excellent HART Group, which you can read in full here.
It makes some very important points and we have added some emphases.
Arm yourself with knowledge!
Excerpt from:
Junk science serves neither side of the debate
Criticisms for new vaccine study
Of note, in relation to attribution, this is always difficult to determine from voluntary adverse event reporting systems, but that doesn't mean that Regulators should not be closely scrutinising products which are — unusually — being rolled out to 100s of millions with limited controlled short-term safety data and no long-term safety data.  One group has in fact performed such an analysis on a sample of USA VAERS data and the results are illuminating, with a preliminary report indicating that in 86% of the first 250 reports of deaths the vaccine may have been a factor, and in 5% it was the most likely cause.
On the other hand, there are many omissions which those urging more caution could level at the paper:
The main criticism of this paper however must surely be that the calculations assume a blanket risk-benefit landscape across the entire population; in fact it has always been known that nearly all the Covid risks are in the elderly, and it is now becoming apparent from close scrutiny that serious adverse events appear more common in the young, although this could be an artefact of these events being more distinguishable from background rate in the young.
This means that risk-benefit analyses yield completely different outcomes in different age categories, and that the article did not address this is a major omission.
---
The People's Media
https://www.thelibertybeacon.com/risks-and-benefits-replacing-propaganda-junk-with-real-science/