The media's full of 'bs' on this story as with the below in The Telegraph, trying to pass off her collapse as nerves.  Then they add 'medical reasons'.  The narrative is wobbling and they're shooting ideas from the hip.  That means there's more to this.  She's short of breath and struggling so what happens?  They put a mask on her.  What do they want?  A stretcher case and Wimbledon turned into a COVID showcase?  I think that was the idea from the beginning, but the selected victim who was also clutching her stomach as if she's swallowed something toxic, much to their disappointment, held out.  They send out a doctor with a stethoscope to make a bit more visual drama, when she was ready to walk and able to get out of sight.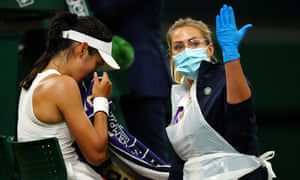 Did day-long wait affect Raducanu?
The Briton was clearly struggling with her breathing towards the end of that first set. And those lung-busting baseline rallies would have taken their toll on her physically. But did the all-day wait for her match to get under way play it's part in the sad conclusion of tonight's clash? The 18-year-old's last 16 clash didn't get under way until 8pm, remember.
Tomljanovic on Raducanu's retirement
'I'm kind of shocked. I'm really sorry for her. I wish we could have finished it. It's sport, it happens. I wish her all the best.'

TAP – What are the real reasons?  Don't tell me.  Did she have the you know what (vaxx) recently?  It's possible.  She's coached by the Murrays who are promoting the vaccine.

uk.news.yahoo.com/first-jab-feeling-andy-murray-110814180.html

  Anyone know the answer?  Medical means medical.  This is most unusual for an eighteen year old to suddenly crash out physically.  They're trying to pass it off as nerves.  I'm not convinced.  There's more to it.  My guess is that being young and under the influence of the Murrays she went for it – i.e the vaccine as the Murrays promote the vaxx publicly – whether they actually have it themselves or not is debatable. (Her coach is Andy Murray's father-in-law).  Like many other sports players who were recently vaxxed, she nearly collapsed while on the pitch.  

Pictured earlier before something struck.

Tennis players are being pressurised to get vaccinated.  Being young and advised by the Murrays, did she take it?  Very likely I would think.

You wonder why are they promoting the vaccine to top sports players?  Which they undoubtedly are doing.

My take is that they want some high profile collapses which they can put down to COVID.  Maybe even a tragic death would suit their purposes best as dead tell no tales, and they can then surge their evil drive for more people to be vaccinated.  They are now targeting young people.

The collapse was partial thankfully.  And they're running the story as nerves so far, not sure whether to go medical with it or not.  'How bad is she?'  they're thinking.  If she deteriorates, you can be sure this will become a high profile COVID case, with no mention of any vaccine.  The narrative needs feeding.  The sacrificial lamb had been readied with much priming of her profile in the media the day before to draw people in and follow her story. 

Today she nearly delivered the perfect COVID news story….  Thankfully so far she has not.   Stay safe, Emma.  Get home to Mum and Dad now would be my advice.  No more listening to those 'handlers' in your bubble.  You have a health battle to fight right now which is way more important than any tennis career.  And be careful what they give you to eat and drink just before you play…….Wimbledon is being run as a COVID showcase, with masks worn on camera everywhere – all out in the fresh air.  We can see how their minds are working.  Be careful, please, Emma.  Evil forces are at work.

From the BBC –

Some of the world's top tennis players have said they do not want to receive a coronavirus vaccine, triggering a major debate within the sport.

Both the ATP and WTA governing bodies have called for players to be immunised, but insist they will not force them to be vaccinated.

Leading stars in both the men's and women's game – including Novak Djokovic and Elina Svitolina – have expressed scepticism over Covid-19 vaccines.

He later claimed his comments about vaccinations had been taken out of context in the media, saying "my issue here with vaccines is if someone is forcing me to put something in my body. That I don't want".

In recent weeks, the debate over the vaccine has intensified.

Health bodies, including the World Health Organization and the European Medicines Agency, have repeatedly said the benefits of the vaccine outweigh any risks.

What have players said?

During press conferences at this week's Miami Open, journalist Ben Rothenberg quizzed a number of players about whether they planned to get a vaccine.

World number eight, Aryna Sabalenka, told a press conference that she did not "trust" the jab.

"They just make it, like really quick and there wasn't enough time to test it and to see what can happen," she said." But she added that if she had to take it, she would.

"It's tough to say, but I don't really want it yet and I don't want my family to take it."

IMAGE COPYRIGHT

REUTERS

image caption

Elina Svitolina says she will wait for now

Meanwhile, the Ukrainian player Elina Svitolina said she had spoken with friends who told her to "wait a little while longer to see how it goes".

"For now it makes almost like no sense to do something that has been tested for such a short period of time. I will probably wait for now," she said.

Following the comments, the WTA released a statement saying it would "continue to educate our players on the various vaccines along with the benefits of getting vaccinated."

"The WTA believes in and will encourage everyone to get a vaccine," the statement said.

In the men's game, top 10 player Andrey Rublev said: "For the moment [the vaccine] doesn't really give you any privilege".

He said that players would still have to remain in a bubble while attending tournaments. "If you ask me if I can choose and I can have an option, I will not do it".