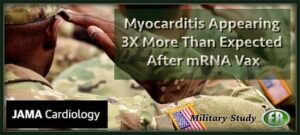 ER Editor: We remind readers that studies have shown that the percentage of adverse reactions REPORTED (including death) to vaccines is typically around the 1% mark. Others have put it higher at 10%. Either way, the number of adverse events officially reported is likely to be MUCH LOWER than the real percentage.
See also this report from Zerohedge, titled New Study Links "Acute Chest Pain" In Male Soldiers To mRNA Vaccines.
********
Heart Inflammation Linked to COVID Vaccines in Study of U.S. Military, Department of Defense Confirms
In a study published June 29 in JAMA Cardiology, researchers described 23 cases of myocarditis in healthy military members who developed the condition within four days of receiving the Pfizer or Moderna COVID vaccines.
The Defender is experiencing censorship on many social channels. Be sure to stay in touch with the news that matters by subscribing to our top news of the day. It's free.
MEGAN REDSHAW
A total of 23 male patients (22 currently serving in the military and 1 retiree) with a median age range of 25 years were evaluated between January and April 2021 for acute-onset chest pain following vaccination with an mRNA COVID vaccine.
All military members were previously healthy with a high level of fitness. They were physically fit by military standards and lacked any known history of cardiac disease, significant cardiac risk factors or exposure to cardiotoxic agents.
Seven military members received Pfizer's COVID vaccine and 16 received the Moderna vaccine. Each patient had a final diagnosis of myocarditis without infectious, ischemic or autoimmune etiologies identified. Diagnoses were reviewed and met the U.S. Centers for Disease Control and Prevention's (CDC) case definition criteria for probable myocarditis.
All patients presented with acute chest pain and significantly elevated cardiac troponin levels (10-fold to 400-fold the upper limits of their respective reference ranges) with symptom onset within 12 to 96 hours following COVID vaccination.
According to the study, physicians expected to find eight or fewer cases of myocarditis among the 436,000 male military members who received two mRNA doses. But 20 military members developed inflammation after their second dose, including 14 after the Moderna shot and six after the Pfizer shot. Three developed myocarditis after their first vaccine.
Cardiac symptoms resolved within a week of onset for 16 patients, but seven continued to have chest pain at the time of publication.
The researchers stated that while the true incidence of myocarditis is unknown at this time, the presentation pattern and clinical course suggest an association with an inflammatory response to vaccination.
The team concluded that increased attention to myocarditis as a potential adverse event following vaccination is warranted.
New study supports link between mRNA COVID vaccines and heart inflammation
A separate study published in JAMA Cardiology on June 29 investigated seven cases of acute myocarditis. Four cases occurred within five days of COVID vaccination between Feb. 1 and April 30.
All four patients had received the second dose of an mRNA vaccine and presented with severe chest pain, had biomarker evidence of myocardial injury, were hospitalized and had test results consistent with myocarditis.
"It is possible that these four cases of acute myocarditis represent a rare, potential adverse event linked to mRNA COVID-19 vaccination," researchers wrote. "The findings from the present report raise the possibility of an association between mRNA COVID-19 vaccination and acute myocarditis."
An association between COVID vaccines and myocarditis was first reported in Israel with a case study in February involving a 19-year-old male.
On April 26, details leaked from an Israeli Health Ministry report raising concerns among experts about a possible link between the Pfizer-BioNTech COVID vaccine and myocarditis.
A preliminary report by an Israeli committee tasked with monitoring vaccine side effects found 62 cases of myocarditis, including two deaths, in people who received the Pfizer vaccine. Fifty-six cases occurred after the second dose of the vaccine, and 55 cases occurred in men — most between the ages of 18 and 30.
The two patients who died were reportedly healthy until receiving the vaccine and had no pre-existing conditions.
On April 27, Reuters reported the U.S. Department of Defense was investigating 14 cases of heart inflammation among people who were vaccinated through the military's health services.
On June 2, Israeli health officials confirmed a probable link between the Pfizer's COVID vaccine and dozens of cases of heart inflammation in young men following the second dose.
As The Defender reported June 10, the CDC's advisory committee acknowledged a higher-than-expected number of cases of heart inflammation among 16- to 24-year-olds who recently received a second dose of the Pfizer and Moderna COVID vaccines.
Based on a May 24 report from the CDC's Advisory Committee on Immunization Practices (ACIP) COVID-19 Vaccine Safety Technical Work Group (VaST), the CDC on June 1 updated its website with the following language:
"Data from VAERS [Vaccine Adverse Events Reporting System] show that in the 30-day window following dose 2 mRNA COVID-19 vaccination, there was a higher number of observed than expected myocarditis/pericarditis cases in 16–24-year-olds."
On June 23, the ACIP said there was a "likely association" of "mild" heart inflammation in adolescents and young adults after vaccination with an mRNA COVID vaccine and a warning statement was warranted.
The safety panel acknowledged more than 1,200 cases of myocarditis or pericarditis in 16- to-24-year-olds who received an mRNA COVID vaccine, mostly occurring in males after the second dose.
As The Defender reported June 28, the U.S. Food and Drug Administration added a warning to Pfizer and Moderna's fact sheets indicating an increased risk of myocarditis and pericarditis following vaccination.
According to the latest data from VAERS, there were 1,342  cases of myocarditis and pericarditis (heart inflammation) in all age groups reported in the U.S. following COVID vaccination between Dec.14, 2020 and June 18, 2021.
Of the 1,342 cases reported, 835 cases were attributed to Pfizer, 458 cases to Moderna and 45 cases to Johnson & Johnson's COVID vaccine.