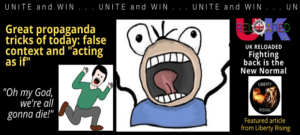 by Anonymous
The Covid terror and the push to get every citizen experimentally injected with biochemical agents of as yet unknown medium and long term consequences relies on creating the frightening impression that we are facing an outbreak of a mass-killing virus.
The reckless and irresponsible rush to vaccinate, the targeting of kids, the relentless pressure on the citizenry to comply, the waiving of the usual common sense health and safety protocols, the ignoring of vast and growing numbers of adverse reactions and so on and so forth make perfect sense ONLY IF WE ARE FACING A KILLER VIRJUS AS DEADLY AS, SAY, EBOLA.
But in the context of what we are ACTUALLY FACING, they not only do not make sense, they are utterly insane.
The ACTUAL CONTEXT is a virus whose existence has not yet actually been proven in all this time but suffice to say that SOMETHING is making a minority of people poorly, a smaller minority very ill and an even smaller minority dead.
It is an illness that is virtually no threat to children, or indeed anyone, unless they have a pre-existing condition that is crippling their immune system or rendering them so frail that they can succumb to it.  It is an illness whose average age of fatality in the UK is about 82, a year OLDER than the average age of death from all causes. It is, moreover, an illness that is very treatable, for which several successful and safe remedies exist and had it not been for the government withholding them the fatalities from COVID19 would have been far lower.
So the carefully not mentioning or actually suppressing the remedies contributes many deaths to the scenario and this helps create the "deadly killer virus" narrative.
In any emergency situation we have two things that go together to form a whole.
We have (a) the emergency and (b) the steps taken to handle it. Where there is one, we expect the other. When there is an emergency going on, we expect to see measures to deal with it. Conversely, when steps are being taken to deal with an emergency, we reasonably assume the emergency must be going on.
The truth of the matter is even the government's fraudulent use of the PCR test and the falsification of statistics – both suffering from the liability of being easily seen through by anyone who cares to look – have not quite managed to make this illness appear deadly enough to warrant various measures such as lockdowns, masks, social distancing and so forth. Certainly they do not to warrant or justify the end goal with which it is obsessed and to which lead all the roads it has tried to lay down: mass injection with booby-trapped pseudo vaccines.
So the transparently fraudulent stats and the alarming headlines derived therefrom are  not sufficient and observable reality is not sufficient to create the narrative of fighting a dangerous, highly lethal, highly infectious virus that would justify its actions. So what else can the criminals behind this charade do?
It is very simple:
Just ACT AS IF there is some sort of Ebola-like threat on the loose. If you act as if there is an emergency convincingly and persistently enough, people will assume there is one.
For example, if you are on a ship and you rush for the lifeboats crying, "Oh my God, we're all gonna die!" then the rest of he passengers will assume the ship is sinking and rush for the lifeboats as well, especially if you can get your mates to join in, or generate beforehand a few rumours about the possibility the hull springs leaks or some such thing.
So, everything the gov does, ably talked up by its chums in the media, is consistent with a killer epidemic. But it does not exist.
Yes, there is an illness that kills some unfortunate people (mainly the very old or already ill etc etc) and these cases can be pointed to. Pronouncements, press releases and so forth can be seeded with expressions like "this deadly disease" and, yes, it IS deadly in some cases (so is being hit by lightning, drowning in the bath or receiving the booby-trapped vaccines). This qualifies it as an illness to which some people succumb but it does not qualify it as a mass-killing epidemic the populace needs to be so scared of it will hold out its collective arm for an experimental jab with serious safety issues. Or, worse, hold out its kids' arms.
And the case of children illustrates this "acting as if". Run around with a haunted look crying "oh my God we'd better vaccinate the kids before they catch the bug!" and parents will assume there must be a bug that is a threat to their kids.
So the main propaganda ploy is simply ACTING AS IF there is a killer epidemic on the loose. Gear everything, every breathless announcement, every "worry" or "fear" about variants, every "reluctant" measure to "save lives" or prevent the NHS being overwhelmed and so on and so forth and you pretty much implant in the minds of the citizenry the conviction that there is a killer epidemic going on.
And nothing, by the way, cements that more firmly in the mind than making everyone wear surgical masks.
There is another term for what the government and its collaborators in the media are doing with malice aforethought so as to get everyone injected in a hurry.
It is called "hysteria".
---