Illegal vaccine link to Gulf war syndrome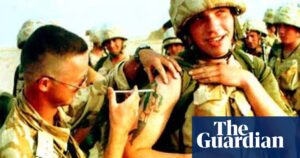 The illness known as Gulf war syndrome looks likely to have been caused by an illegal vaccine "booster" given by the Ministry of Defence to protect soldiers against biological weapons, according to the results of a new series of tests.
Scientists in the United States found that symptoms of the illness were the same for service personnel who received the injections whether or not they served in the Gulf.
The common factor for the 275,000 British and US veterans who are ill appears to be a substance called squalene, allegedly used in injections to add to their potency. Such an action would have been illegal. Squalene is not licensed for use on either side of the Atlantic because of potential side effects.
Pam Asa and her team at the Tulane medical school in Louisiana tested more than 300 former US military personnel who were given vaccinations to go to the Gulf: 95% tested positive for squalene antibodies.
In addition veterans from both sides of the Atlantic were tested, including 20 who were given preparatory injections but who did not go to the war. All 20 tested positive to squalene antibodies.
The first non-deployed British sufferer to be tested, Anwen Humphreys, was also found to have antibodies.
Dr Asa said in her view the fact that even non-deployed veterans were testing positive for squalene provided conclusive evidence that vaccinations were a "major cause" of the condition. It ruled out the alternative environmental theories floated as causes of Gulf war syndrome.
"I believe that those people who were given vaccinations in the US and the UK were given something they should not have been, probably in the anthrax vaccine. [The results] need a thorough examination by the US and UK governments."
Squalene is classed as an ad juvant – a chemical which is added to a vaccine to make it more combative. It is a naturally occurring substance in the human body but injecting it is illegal, and past scientific research in rats and mice has found that it causes auto-immune disease. Consequently, squalene in the form of a vaccine is unlicensed for human or veterinary use.
The evidence could be devastating for the Ministry of Defence which is being sued for damages by 1,900 British veterans. If they show they were injected with an illegal substance, the damages could be astronomical. The ministry has refused toreveal what was in the injections.
Ms Humphreys, 39, from Dolgellau, north Wales, who suffers typical symptoms of the syndrome – severe headaches, nausea, muscular pain, joint swelling, short term memory loss and depression – said: "I believe the MoD has used us like guinea pigs to see how effective squalene is.
"There are no words to describe what they have done. It's just medically, morally and ethically wrong."
She says she feels "cheated" by the MoD. "I was always one of these people who said that there is no way they would experiment with our vaccinations."
Ms Humphreys' story is being told tonight on the Welsh-language current affairs programme, Y Byd Ar Bedwar, (The World On Four), on S4C. The US defence department has strongly denied Dr Asa's claims.
Lewis Moonie, a junior minister responsible for veterans, said: "To the best of my knowledge no squalene was given to any member of the British forces at the time of the Gulf war."
The Ministry of Defence has so far refused to disclose what was in the injections and defence scientists are carrying out experiments on animals to see what effects the Gulf war injections could have. The results will not be known until 2003.
https://www.theguardian.com/environment/2001/jul/30/internationalnews
Mon 30 Jul 2001 02.11 BST