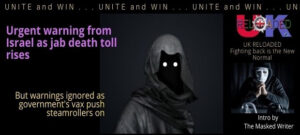 Intro by The Masked Writer
The following article makes harrowing reading.
The Israeli government "led the world" with the roll out of its Pfizer vaccine to "protect them" from  a bug that is not life threatening to the vast majority.
It should now alert the world as to the consequences because it presently leads the world in the resultant slaughter of its own citizens.
No vax in history comes close to the scale of deaths and adverse reactions associated with the experimental Covid jabs and many in the past have been pulled  for far less.
This should at least prompt caution and a suspension of the program until the matter is fully, impartially and responsibly investigated. There is plenty that can be done to protect the small percentage of (in the mainl, very old) people truly at risk.
One must suspect then that in light of the fact that the vax push continues regardless, whilst every effort is made to keep the public uniformed as to the harm being done to them and their fellow citizens, the effects these vaxes are having are desired.
In the case of the Israeli government, the slaughter of Israeli Jews is intentional or at the very least acceptable to the architects of this attack on liberty. If this were not the case, they would immediate cease and desist injecting people who are at little or no risk from the alleged virus in the first place.
Indeed, the Israeli government has already killed far more Israelis in 2021 through vaccines than have been killed by Hamas rockets (the latter just 10, according to Google).
We have apparently reached the point, predicted by many, where vaccines are also killing more people than the COVID bug. As the true number of Covid deaths may be far lower than governments make out in their effort to market their killer vaxes, the discrepancy may be even larger than it appears.
Considering the alleged virus has not one but several known remedies (all suppressed to create an illusory "urgent need" for the vaxes) and, even according to government's inflated stats, is no more deadly than flu (and a lot less deadly for the young) we really do need to start questioning the real reasons for that vax obsession and the obsessive drive to inject every citizen with experimental biochemicals.
Meanwhile, the Israeli government continues to sponsor and push the slaughter of its own citizens whilst those citizens are conveniently distracted by the slaughter of Palestinians in Gaza.
The following article can be found here. We have taken the liberty of adding some emphases.
MW
Orders of Magnitude Higher Deaths in the Vaccinated:
Israel's Vaccine Data Reveals a Frightening Picture