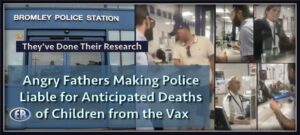 ER Editor: Bromley is a town in the south-east of the Greater London area. Danny Cook, who had already gathered evidence to successfully convict pedophiles he says on camera, takes files of evidence to Bromley Police Station accompanied by 5 friends. These are people who have truly done their research on this so-called 'pandemic'.
Ideally, they were seeking to serve a liability form on the superior officer at the station, as well as a ream of evidence and research, in order that the police at this station conduct an investigation into it, or failing that, be held responsible when the first child dies after receiving one of the Covid vaccines. Vaccines for UK children are expected to be rolled out in September.
It is clear they're done their research into the PCR test, actual death rates for the year 2020 through FOI requests at hospitals, statistics on harm and death following the vaccinations, &etc. They've included research from the UK government's very own website, which shows that 80% of the vaccinated are expected to die.
At the end of the video, having left without achieving their goal, Cook says he will serve his evidence on the station via registered mail. 
Importantly, they appeal to the legal concept of Gillick Competence, applicable in England and Wales, which determines if a child under 16 can be held responsible for their own medical decision-making. Obviously, this could be invoked over vaccinating children, especially as parents have to expressly OPT OUT to avoid having their child vaccinated.
Their plan is to do the same at several police stations. They rightly complain that all they've seen the police do in the past few months is to walk into children's parties and into funerals where they tear people apart. All they're now asking for is an investigation into proof of fraud and harm. Kudos to them.
This is basic research and we're doing your job
You're fine. You're still getting a wage. Our businesses are destroyed, our families are destroyed …
You know in your heart where this is going …
********
"When a Child Dies From the Vaccine, You Will Be Accountable for Murder" – Bromley Police Confronted
************
Published to The Liberty Beacon from EuropeReloaded.com
MUST-SEE VIDEO: "When a Child Dies From the Vaccine, You Will Be Accountable For Murder" – Bromley Police Confronted