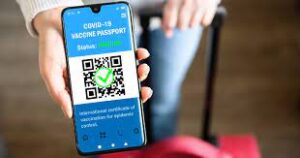 With most adults vaccinated and case numbers low, Israel removes many restrictions | New York Times – Isabel Kershner:
June 1, 2021 –  "With new coronavirus cases dropping to below 20 a day, Israel on Tuesday retired its Green Pass system and will now allow equal access to restaurants, sports events, cultural activities and the like to vaccinated and unvaccinated citizens. Restrictions on the sizes of gatherings have also been lifted. The decision came less than three months after Israel, a real-world laboratory for the efficacy of the Pfizer-BioNTech vaccine, pioneered its digitized Green Pass system and became a test case for an inoculated society.
"For now, the only remaining pandemic restriction inside the country is a requirement to wear masks in closed public spaces, although that, too, is under discussion by health officials. The main efforts to control the coronavirus are now centered on restrictions for travel in and out of Israel, based on testing and quarantine. Strict limitations remain on the entry of people who are not Israeli citizens.
"'The Green Pass project was very successful,' said Tomer Lotan, the policy chief of Israel's national coronavirus response center, summing up the experiment of the past few months. It was particularly effective, he said, as an incentive to encourage the 16-to-40 age group to get vaccinated and to allow Israel to reopen its economy. 'But anybody who did not get vaccinated by now is probably not going to,' Mr. Lotan said. About 81 percent of Israel's adult population has been fully vaccinated, but about 2.6 million children under 16 are still not eligible, out of a total population of just over nine million. Up to a million people have chosen not to be inoculated….
"Israel was among the first countries to grapple with some of the legal and moral issues arising from a two-tiered system for vaccinated and unvaccinated people. Because getting vaccinated has been voluntary, some people who chose not to or could not be vaccinated argued that the Green Pass system was discriminatory. Enforcement was also patchy…. Businesses complained about the additional burden of enforcing the rules. And movie complexes and other leisure attractions did not reopen, because it was unprofitable as long as unvaccinated children could not enter without showing a recent negative Covid-19 test, which many found impractical."
Read more: https://www.nytimes.com/2021/06/01/world/middleeast/israel-covid-restrictions.html
Denmark to scrap face masks from Monday | The Local.dk – Ritzau/The Local:
June 10, 2021 – "Denmark's government has struck a deal with all but one of the parties in parliament to on Monday end the requirement to wear a face mask in all areas apart from on public transport. Under the agreement, struck after 3am following marathon all-night negotiations, the requirement to wear a face mask will be scrapped completely from October 1st.
"The coronavirus health pass or coronapas will also begin to be phased out from Monday, when those visiting public libraries and participating in activities run by clubs and voluntary organisations will no longer be required to show one.
"From August 1st, a valid coronapas will no longer be needed in theaters, concert venues, indoor sports activities, and a wide range of other venues, from September 1st, you will no longer need to show one in restaurants, the hairdresser or the gym, and on October 1st the pass will be phased out completely…. The agreement also extends how long a negative PCR test provides a valid coronapas to 96 hours."
Read more: https://www-thelocal-dk.cdn.ampproject.org/c/s/www.thelocal.dk/20210610/danish-parties-agree-to-scrap-face-masks-from-monday/
https://gdspoliticalanimal.blogspot.com/2021/06/israel-denmark-announce-end-to-vaccine.html?fbclid=IwAR1eJAQ8YpjUBjktbv-lAceWkYCaYDbv4kh20OuH8ll8B0Xe_jzMEv4TWIs