YOU CAN MEASURE THE POWER OF OUR MOVEMENT BY THE EXTENT OF THE EFFORTS DEEMED NECESSARY TO STOP IT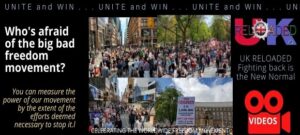 by Steve Cook
So the London demo on Saturday was HUGE. Demos around the country were well attended. Demos across the world were also huge and numerous.
Yet the MSM has some sort of blanket ban on reporting them. It won't do them much good because nowadays there are many vibrant and powerful alternatives to their subverted channels willing to fill the vacuum created by withheld information.
I don't recall ever seeing an event so thoroughly ignored, so steadfastly, vigorously and, indeed, desperately kept out of the newspapers and off the TV screens as Saturday's protests.
This of course provides the most incontrovertible proof yet that the corporate media are not an impartial channel of information but an instrument of propaganda that edits and redacts what the citizenry is permitted to see.
But it tells you too that someone is afraid of us and what we have to say, so afraid they have applied considerable effort to trying to hide us from view lest our protests get attention, the noise we make wakes too many others and their crimes become too well advertised.
You can measure the power of our movement by the extent of the efforts deemed necessary to stop it.
But we've only just started.
Now let's REALLY pile it on!
---
And just to celebrate Saturday's triumph, here is a random sampling of videos, starting with the clip I filmed in London
VIDEOS
Portugal
Canterbury
Manchester
Toronto
Cardiff

Sydney

Brisbane

Netherlands

London

Cardiff

Melbourne
London
AMSTERDAM
Toronto

Denmark

Australia

Cape Town
New York

Calgary

Victoria BC

Vancouver

Mexico

---
The People's Media
Media of the People, by the People, for the People
UK RELOADED THE LIBERTYBEACON WE FIGHT BACK LIBERTY RISING
EUROPE RELOADED TELEGRA.PH DAILY SCARE WEBWIDE NEWS