AND CLINGS TO THE GRAVY TRAIN LIKE A LIMPET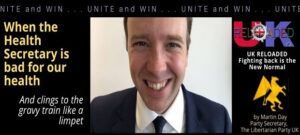 Talking of Matt Hancock . . .
by Martin Day – Party Secretary
What will it take for him to go?
As details emerged about Matt Hancock and his sister owning shares in a firm awarded an NHS contract, a government spokesperson said: "Mr Hancock has acted entirely properly in these circumstances…….. Ministers have no involvement in the awarding of these contracts, and no conflict of interest arises."
Are we expected to believe that?
Do we have another justifiable claim to cronyism? preferential treatment and "brown paper bags" or their modern equivalent?
Apparently not, decided Department of Health and Social Care (DHSC) officials, who ruled that any conflicts of interest could be dealt with in accordance with the ministerial code.
This, however, states that ministers should declare not only their own, but also the interests of close family if they believe they might give rise to a conflict. Mr Hancock did not.
A DHSC source claimed Mr Hancock had discussed being given shares in the firm with civil servants before he received them.
So, having mentioned this to civil servants, those same civil servants immediately proceeded to give a firm, in which the Hancock family have more than 30% of shares, a contract to shred NHS documents. Coincidence?
Matt Hancock has form for this.
Recent deals saw a number of his friends and acquaintances gain lucrative contracts over the last year. The DHSC said Mr Hancock had no active role in running Topwood Ltd. Mr Hancock has not yet commented. Well, he wouldn't, would he?
Somehow, this man has found himself dominating a weak Prime Minister and remaining in this post through all the debacles of the last 15 months.
He's been adjudged to have unlawfully distributed contracts for PPE in the High Court, "too busy" was the excuse. £10.5bn-worth of contracts were awarded directly without a competitive tender process.
Somehow the DHSC had been "too busy" since 2016's Operation Cygnus to ensure the NHS was properly stocked up!
He is also widely held responsible for decisions involving tens of thousands of cancer deaths, compensation claims for which will start hitting the courts this year. Yet he still clings to power like a common limpet. I ask again, what will it take for him to go?