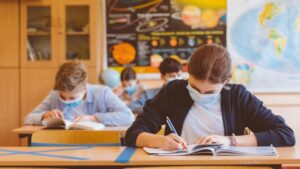 The Department for Education (DfE) has, as reported in Today's Update, made it clear that schools cannot decide by themselves to reintroduce face coverings in the classroom when the mask mandate is removed by the Government on May 17th. Instead, the decision to temporarily reintroduce mask-wearing in response to "localised outbreaks" can only be made by "local directors of public health". These must take "educational drawbacks" into account. The DfE said in an email to the campaign group UsForThem:
Given the negative impact that face coverings have on teaching, learning and wellbeing and current epidemiological information, their use in classrooms or by pupils and students in communal areas is not recommended at the current time.
Despite this, some schools have decided – independently of "local directors of public health", and regardless of the costs on teaching and learning – to ignore the upcoming change in the Government's guidelines and to continue instructing children to wear face masks in the classroom. One such school (the Friesland School in Nottingham) has written to parents saying that their children will have to continue wearing masks because local infection rates are higher than the national average.
Due to local infection rates being currently higher than the national rate, we are taking a measured approach to the easing of our Covid precautions at Friesland School.

We are requesting that face coverings continue to be used indoors from May 17th by students, including in classrooms. Furthermore, and in accordance with Government guidelines, staff and visitors will continue to wear face coverings indoors as they do now.
In the letter, the school's headteacher justified his decision by claiming some students wanted to carry on wearing masks because they were "used to wearing them".
[Members of the school's Student Council] were very much of the view that the majority of students were now used to wearing them and that it would be sensible to continue with masks in the short term.
Perhaps the DfE should be more clear about the right (or lack thereof) of schools to impose mask mandates independently of local public health bodies.
https://lockdownsceptics.org/