IT'S TIME TO MAN UP AND FIGHT BACK FOR THE SAKE OF OUR CHILDREN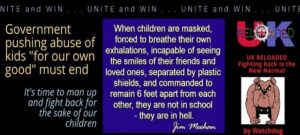 by Watchdog
This meme got me thinking….
If kids are less at risk from this alleged virus than being struck by ruddy lightning, why the hell are we subjecting them to this abuse?
"Oh, " says some gormless loon, "it's so they don't catch it and infect vulnerable old people"
Really? So the experimental biochemical agents the gov has been enthusiastically injecting old people with is not much good then? Hardly worth the risk of the side effects and as yet unknown long term health problems
But look, I'm 69 and have had heart problems so I am theoretically in the "vulnerable": category. To be honest I do not give a flying f**k. I'll take my ruddy chances. What I DO NOT WANT is children abused like this on my account.
I'll live the years I have left with my head up and my days warmed by the smiles of my grand children.
If I'm really worried (which I'm not as fear and. worry weaken the immune system) I can isolate myself, mask-up and become a hermit.
Even better, I can
quit smoking (done)
avoid alcohol (almost done)
avoid drugs (done)
have a healthy diet (done)
take plenty of vit D, C, Zinc etc (done)
have Ivermectin on stand by in case I ever need some extra help (where can I get some?)
But it's MY effing responsibility so I'm damned if I am going to offload that responsibility onto children.
Bear in mind that as people get REALLY old and frail , they are not just vulnerable to the alleged COVID bug.
Even the flu or the common cold can kill them, so are we to condemn kids, by that logic, to wearing masks forever because there is the slight risk of someone who has lived their life might catch a cold and die?
If only for the sake of our kids, we as a nation need to man the f**k up and knock of wimping out at the whim of the chinless bozos who have hijacked the government and outlawed common ruddy sense.
W
---
The People's Media
Media of the People, by the People, for the People
UK RELOADED THE LIBERTYBEACON WE FIGHT BACK LIBERTY RISING
EUROPE RELOADED TELEGRA.PH DAILY SCARE WEBWIDE NEWS