THIS IS CONFIRMED. OTHER PEOPLE WHO GOT THE COVID JAB ARE CONFIRMING THIS HAPPENS. UPDATE: YOU CANNOT GET AN MRI FOR 6-10 WEEKS AFTER THE SHOT BECAUSE OF THIS, (SCROLL DOWN)
The Pfizer jab does indeed make a magnet stick to people's arms where they got the shot. This woman does not specify how long after, but you'll need a neodymium magnet for this to show.
I have now confirmed the shot probably contains nanobots, because you are supposed to wait 6 – 10 WEEKS after the shot before you get a MRI most likely because the nanobots have to disperse or the MRI will rip your arm apart.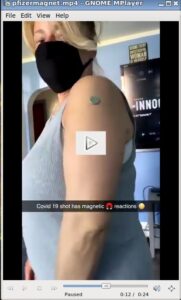 That's a strong attraction. How's that going to work in an MRI???
WHOAH!!! I GOT THE ANSWER: YOU ARE NOT SUPPOSED TO GET AN MRI WHERE THE SHOT WAS FOR 6 – 10 WEEKS AFTER THE SHOT!!!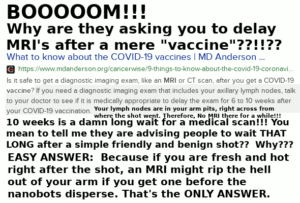 LET ME GUESS: People appear to be dis-connected from their souls and many notice they have been dis-connected and change in big ways after the shot because those nanobots go into your brain (or wherever else they are supposed to go) and they physically sever the body/soul connection. I BET I AM RIGHT.
www.jimstoneis
http://82.221.129.208/.un6.html