The CDC announced this week that deaths reported to the Vaccine Adverse Event Reporting System (VAERS), a U.S. Government funded database that tracks injuries and deaths caused by vaccines, following experimental COVID injections, have now reached 3,486 deaths since December of 2020, when the Pfizer and Moderna mRNA COVID shots were given emergency use authorization (EUA) by the FDA.
To get a perspective on the magnitude of deaths following COVID shots that are being reported to the CDC, there were only 3,445 deaths reported to the CDC following all vaccines from 1/1/2005 through 11/30/2020, the 15-year period prior to the FDA issuing emergency use authorizations for experimental COVID injections in December of 2020.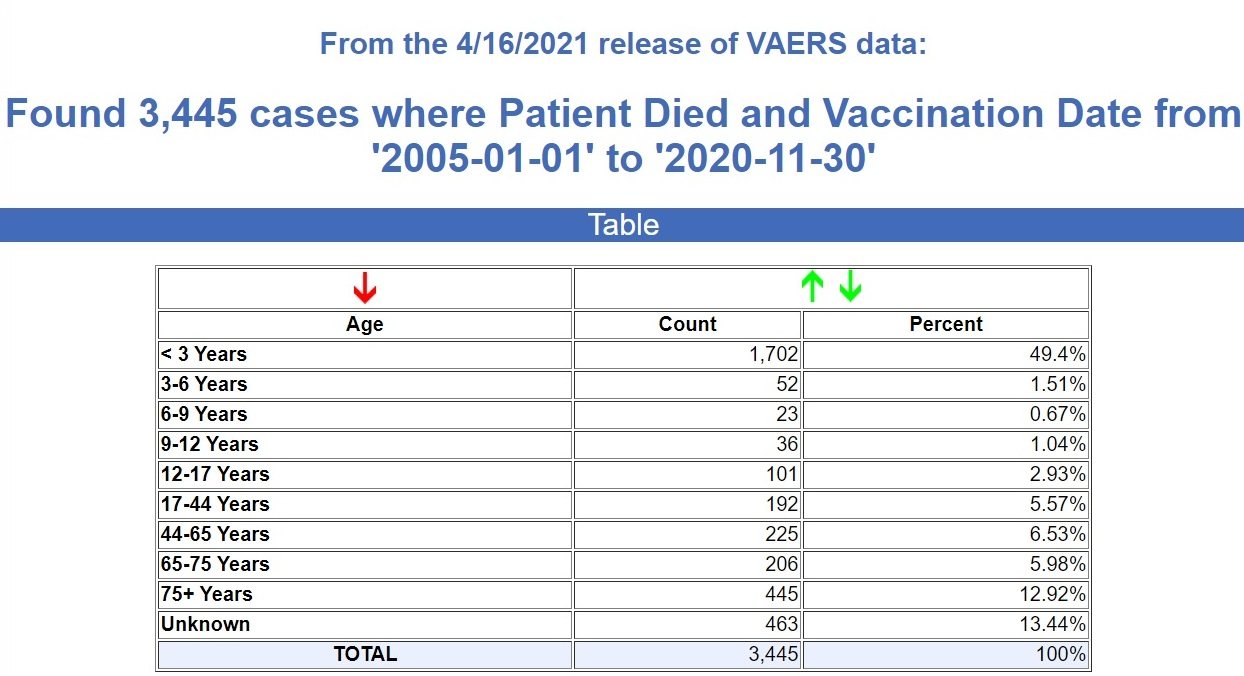 3,186 of the reported 3,486 deaths following COVID injections were included in today's data dump into VAERS, which also included 86,080 injuries with 1,217 permanent disabilities, 12,374 emergency room/doctor visits, 6,282 hospitalized, and 1,906 life threatening injuries.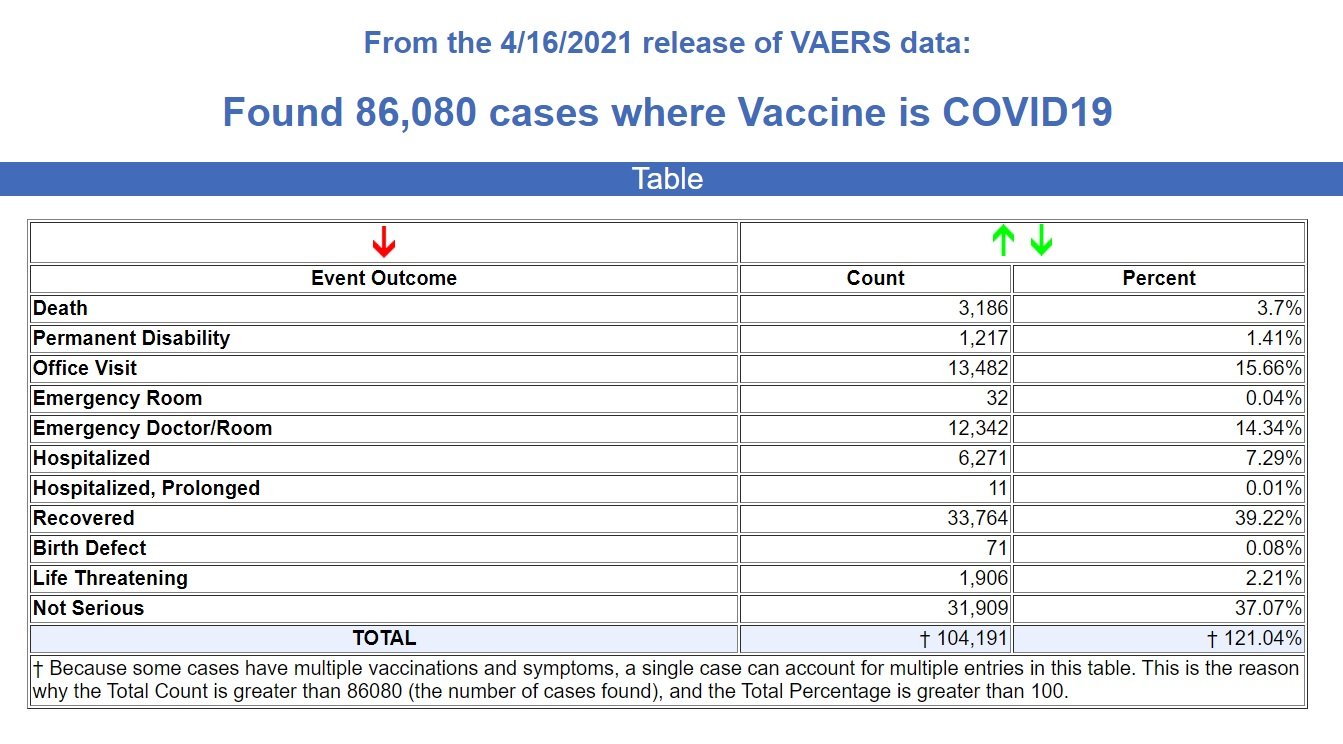 Side by side comparison of 15 years of recorded vaccine injuries and deaths vs. 4 months of recorded COVID vaccine injuries and deaths. (Note: the CDC is reporting 3,486 deaths after COVID vaccines while only 3,186 are entered into VAERS so far.)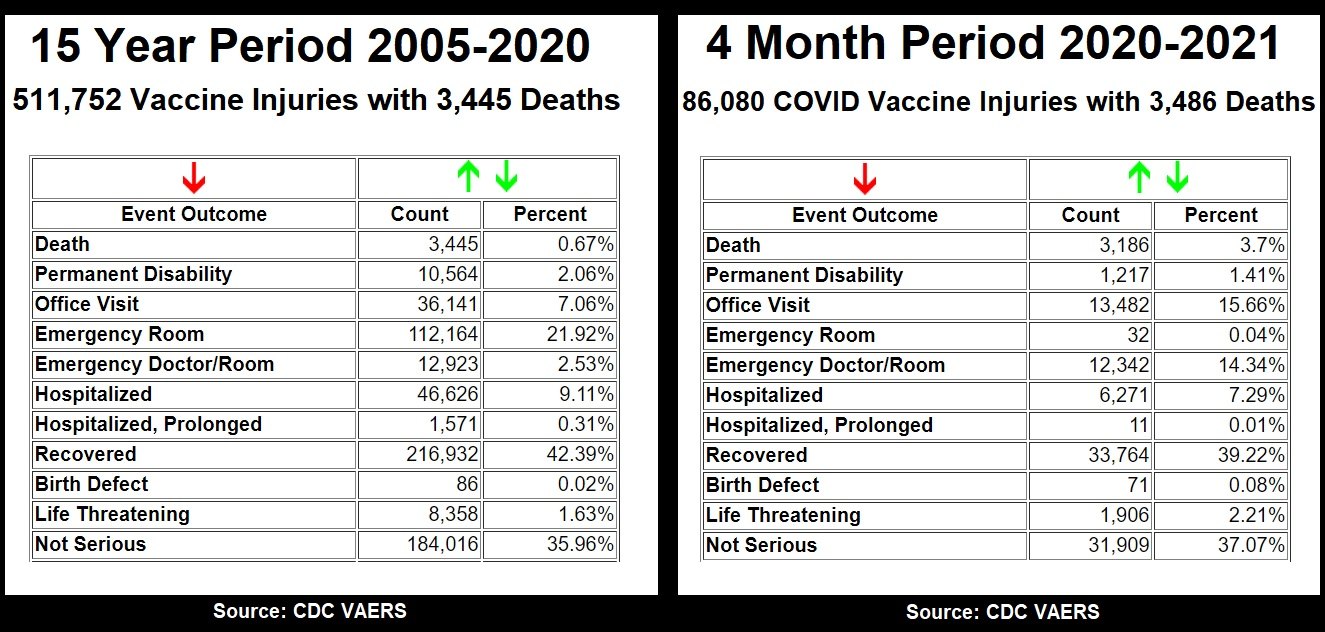 The breakdown of deaths per EUA injection is as follows.
Pfizer/Biontech – 1,476 deaths (Source.)
Moderna – 1,540 deaths (Source.)
Janssen – 155 deaths (Source.)
According to the CDC's COVID Vaccine Tracker, the latest statistics on how many doses of each COVID shot have been injected into the population is as follows.
Pfizer/Biontech – 116,754,631 doses
Moderna – 97,353,734 doses
Janssen – 8,040,727 doses
The J&J Janssen shot has the highest percentage of recorded deaths, with Moderna second.
The Janssen shot is currently paused by the FDA due to reports of "rare" blood clots. According to the CDC, these reports only exist with 8 people, all women.
However, the specific cases of blood clots is very narrowly defined by the FDA and CDC, looking only for "cerebral venous sinus thrombosis combined with thrombocytopenia." (Blood clots in the brain combined with low blood platelets.)
But many other kinds of blood clots following injections have also been reported, many of them fatal, besides just "cerebral venous sinus thrombosis."
If we search for deaths due to any kind of "thrombosis," the numbers go up. Here are the search results for "death" and all cases of "thrombosis" (blood clots.)



Clearly deaths associated with blood clots are being reported with all three EUA shots, but the percentage of shots administered along with deaths and blood clots is considerably higher with the J&J shot.
One other thing to note is the age range these deaths and blood clots are happening with each shot.
With the 27 deaths with blood clots among the Pfizer patients, only 1 occurred below the age of 65.
With the 19 deaths with blood clots among the Moderna patients, 5 occurred below the age of 65.
With the 13 deaths with blood clots among the J&J patients, 8 (62%) of them were among those aged below 65, including one between the ages of 17 and 44.
So the J&J shot is affecting young people, who have little to no risk of dying from COVID-19, far more than the other two shots.
And yet news reports today are stating that the CDC and FDA are getting ready to resume the J&J shots. (Source.)
COVID Shots: Mass Murder and Biological Weapons
The decision of whether or not to continue allowing emergency use authorization for the J&J shot, or either of the other two shots, is largely made by just a select few doctors and scientists, all employed by the U.S. Government and with strong ties to the pharmaceutical industry.
Other doctors and scientists who are not employed by a government or a pharmaceutical company that produces and sells vaccines, strongly disagree with the government health bureaucrats, and we have featured many of them here at Health Impact News.
One of the doctors who actually did get an interview in the corporate media is Dr. Hooman Noorchashm, a Harvard trained physician and scientist who was interviewed by Tucker Carlson on Fox News recently.
He stated that he does not know why the FDA and CDC focused on just this specific cluster of blood clots in the J&J experimental COVID shot, because the issue of dangerous blood clots concerns all three EUA COVID shots right now. He was glad the FDA took at least the one shot off the market (although it looks like it is coming back soon.)
The interview is still on YouTube for now. (Let us know if it disappears.)
Not only is there disagreement over whether or not these experimental injections are safe or effective, many are now claiming that these shots are purposely designed to infect and kill people as part of a global plan to reduce the world's population.
The fact that very well-known scientists and doctors are saying this, such as Dr. Michael Yeadon, the former Vice President and Chief Scientist for Allergy and Respiratory at Pfizer, should be headline news, even if their views are not widely accepted by others.
But instead, they are attacked and censored from the corporate media which is mainly funded by Big Pharma and does not do investigative journalism at all when it comes to vaccines, but simply act as marketing agencies for Big Pharma.
J. Bart Classen, MD, an immunologist, just had a paper published in the journal Microbiology & Infectious Diseases, titled:
COVID-19 RNA Based Vaccines and the Risk of Prion Disease
Excerpt:
There is an old saying in medicine that "the cure may be worse than the disease." The phrase can be applied to vaccines. In  the current paper the concern is raised that the RNA based COVID vaccines have the potential to cause more disease than the epidemic of COVID-19.

This paper focuses on a novel potential adverse event mechanism causing prion disease which could be even more common and debilitating than the viral infection the vaccine is designed to prevent. While this paper focuses on one potential adverse event there are multiple other potential fatal adverse events as discussed below.

Over the last two decades there has been a concern among certain scientists that prions could be used as bioweapons. More  recently there has been a concern that ubiquitous intracellular molecules could be activated to cause prion disease including Alzheimer's disease, ALS and other neurodegenerative diseases.

This concern originates due to potential for misuse of research data on the mechanisms by which certain RNA binding proteins like TDP-43, FUS and others can be activated to form disease causing prions.

The fact that this research, which could be used for bioweapons development, is funded by private organizations including the Bill and Melinda Gates Foundation, and Ellison Medical Foundation [2] without national/international oversight is also a concern. (Full study.)
Reducing the world's population can no longer be considered a conspiracy "theory," as the Globalists themselves, such as Bill Gates, have publicly stated that we need to reduce the world's population, usually in the name of climate change and "saving the earth."