Pre-emptive covering of tracks. It's the fault of the virus!!!
Look at the latest from CNBC – 1 in 3 Covid survivors suffers neurological or mental disorders, study finds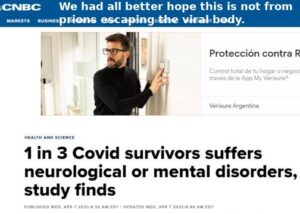 Now why would they come out with this practically immediately after the prion bust? Answer: Because the first early cases of this are now showing up, and they need to lay the groundwork for blaming the virus entirely for whatever the "vax" does. If any of this is legit it is a bad omen, because it would mean the virus was not stable enough to hold onto it's prions and even those who had no symptoms from the original may have a looming prion disease that's going to show it's face in a few months.
For those who have not seen this, as it turns out the protein the virus uses to bond with cells is the prion from mad cow disease, and the "vax" commands your body to make that prion. And that did not happen in a lab . . . . . Things are going to get real interesting real quick, say, from this point in time, 3 -4 months when the first cases start popping up.
My guess is that the virus does not disintegrate in a way that will give people a prion disease when the immune system takes it out, and it is all the vax, because if the virus did disintigrate there should be a lot of cases of mad cow by now and there are not. Maybe the virus does not disintigrate sufficiently for it to take off quick also, that's another consideration for this.
When did they start pushing the zombie meme, to get people ready for this? The Walking Dead first aired in 2010, which was also the first year any documentation for Covid-19 showed up, and at that time it was supposed to be a prion disease that caused people to go "mad cow" and die. Having it be a coronavirus infection was a twist in that plot, with the coronavirus carrying the actual prion. It all ties together. Watch the video Alex released that is linked down the page a ways. They have been working on this since 2010 and Covid-19 was originally a prion disease. They ended up needing a viral carrier. "Getting over coronavirus" may mean nothing if it plants the seed of future doom.
www.jimstoneis
http://82.221.129.208/.up7.html