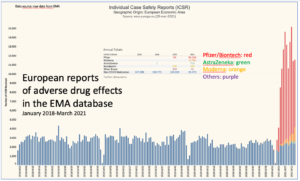 Source: @waukema using EMA raw data
Harm greater than good – why are they doing this?
2.4.2020
An analysis of the reports of drug side effects recorded in the EMA database in Europe between April 2020 and March 2021 paints an extremely alarming picture. But the pointless vaccination campaign is doggedly continued. It goes over corpses – and there are more and more!

To prevent a single slight infection, over 140 people would have to be "vaccinated" (NNV) – or if we had 60 million German citizens "vaccinated", there would be only 425,500 fewer slight infections with a positive PCR test in Germany. That's less than one percent of the population. Most of the others have long been immune anyway (old cross immunity). None of this makes sense!
In the period from April 2020 to December 2020, the registered undesirable side effects fluctuated in a corridor from 9,418 to 12,567 reports, with an average of 10,847 side effects recorded in each of these months.
In January 2021, the number soared to 27,242. In February 2021 and March 2021, the number of reported adverse reactions was 52,183 and 52,165, respectively. This means that side effects have increased fivefold in the last two months compared to the average for the Corona year 2020.
A closer look at the reported cases shows that it is only the new "vaccines" against SARS-CoV-2 that have caused this massive increase.
A closer look at the raw data reveals that it is primarily the mRNA preparation from BioNTech / Pfizer that causes the high number of side effects. The reported number of side effects of the Moderna "vaccination" is significantly lower, according to the database, the number of undesirable side effects at AstraZeneca seems to be even lower.
Since a correlation with the different "vaccinated" collectives (elderly, nursing staff, women, men?) And the number of doses used in each case is not possible, special risks may be hidden. In my opinion, the authorities are grossly negligent for an experimental genetic mass "vaccination", which was observed far too briefly before it was approved, as the possible risks, for example of thrombus formation (see below), are known to those responsible in the government and in the PEI.
The EMA database certainly underestimates the risk. Only about 3 percent of the adverse drug side effects that actually occur are reported to the authorities on a regular basis. The news platform of the Corona Committee 2020News is aware, among other things, through the whistleblower report from the Berlin old people's home (The terrible dying after vaccination) that even deaths closely related to the vaccination are not reported because they are often misinterpreted as COVID-19 deaths . In relation to hospitals such as the Würzburg University Clinic, 2020News learned that vaccinated employees do not report their sometimes severe side effects. Sick reports after vaccination are common.
AstraZeneca's vaccine has been at least temporarily suspended in several countries or is no longer being given to women under 55 due to an unusual number of deaths from cerebral vein thrombosis. It is unclear what effect caused so many side effects with the other "vaccines".
Possibly out of the motivation to enable further vaccination of the vaccine from AstraZeneca despite its growing bad reputation, the name has now been changed: The AstraZeneca vaccine is now called VAXZEVRIA .             (Text largely taken from News2020 )
Below: the latest figures from the Vaccine Adverse Event Reporting System (VAERS) of the CDC (USA)

https://www.wodarg.com/