UNPRECEDENTED LEVELS OF BAD REACTION TO A NEW VACCINE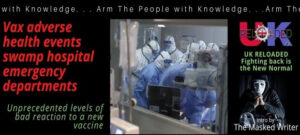 Today's news 11th April 2021
SOURCE: The Evening Standard
Intro by The Masked Writer
The following is quoted from today's Evening Standard so this is in essence breaking news. Bear in mind the source of this report: a newspaper very much part of the Corporate Media Matrix in collaboration with the architects of the Covid Terror and essentially the propaganda arm of the Globalist attack on the planet's civilisation.
So, however grim they are saying it is, the chances are very high that the situation is much worse.
This news comes at a time when an NHS doctor working in London writes in the BMJ how adverse reactions to the vax are "taking out entire teams" of medical staff.
So we now have a surge of patients suffering from adverse reactions hitting hospitals at a time when their own staff are being poleaxed by the vax as well!
There is then the very real prospect that the NHS is going to be overwhelmed after all, not by the ruddy virus but by the experimental vaxes and pseudo vaxes trotted out by this potty and homicidally irresponsible government of smarmy neanderthals.
And still these psychopaths forge right ahead, driven by an evidently manic  obsession, with getting this stuff into the body of as many citizens as possible.
I do not recall any time in the past where something like this has happened: a vaccine resulting in an an almost immediate surge of severe adverse reactions large enough to swamp hospitals.
This does not bode well for the medium and long term effects of these experimental agents upon health, fertility, longevity and so forth.
A&E departments swamped with patients with AstraZeneca vaccine side-effects
Emergency doctors told the Health Service Journal (HSJ) that a growing number of people are presenting to A&E units after having the jab.
Some have been advised to go to hospital by GPs.
Dr Katherine Henderson, the president of the Royal College of Emergency Medicine, confirmed this was the case to the Guardian.
"It's definitely a thing," she said
"Colleagues across England are reporting this. All A&E departments are seeing an increase in the number of people reporting concerns after having the AstraZeneca vaccine.
"We are seeing people with mild headaches and persistent headaches but who are otherwise alright."
Dr Henderson added that emergency departments and GPs are getting "a lot of queries" and thinks it's an "understandable reaction by the public."
"I can understand why people are anxious. If they are worried they need to get advice", she said.
One A&E consultant told the HSJ: "We have seen huge numbers of AstraZeneca jab-associated headaches being sent in and, like all [emergency departments], we're scrabbling to cobble together some guidance so as to sensibly reduce the number needing investigation. I gather some units are really, really struggling with this."
It comes after the Joint Committee on Vaccination and Immunisation (JCVI) decided to restrict the jab to people over 30.
Nineteen people have died from rare blood clotting in the UK after taking the jab.
Countries around the world have restricted its use in younger people, including Australia and Germany.
On Friday, the European Medicines Authority (EMA) said it was investigating after five people who had the AstraZeneca jab developed capillary leak syndrome.
The rare condition results in blood leaking from tiny vessels into muscles which can cause a sudden drop in blood pressure. If left untreated this can cause organ failure.
However, the regulator said is it not yet clear whether there is a causal association between the jab and any blood conditions.
---