THE PEOPLE STRIKE BACK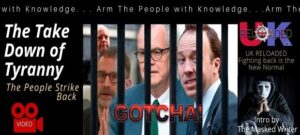 Intro by The Masked Writer
I have taken the text and video featured below from the Website of The People's Union of Britain.
I HIGHLY RECOMMEND YOU PAY IT A VISIT, TAKE A TOUR OF THE SITE AND, IF IT STRIKES A CHORD WITH YOU, JOIN THIS INITIATIVE AND HELP THESE FELLOW FREEDOM FIGHTERS CREATE A GRASS ROOTS MOVEMENT OF SINCERE AND HIGHLY MOTIVATED PEOPLE.
THIS IS NOT JUST ABOUT "STOPPING GLOBALIST TRYANNY' OR RESISTANCE TO THE IMPOSITION OF THEIR DEMENTED BRAVE NEW WORLD – IT IS ABOUT  LOOKING ABOVE AND BEYOND THAT AND GETTING OUR SLEEVES ROLLED UP TO CREATE A CIVILISATION FAR MORE DESIRABLE AND FAR SUPERIOR TO THE NIGHTMARE ENVISIONED BY THE DARK AND LIMTED INTELLECTS OF THE NEW WORLD ORDER  CREW.
THE VEHICLE FOR A NEW CIVILISATION CREATED ACCORDING TO OUR GOALS AND DREAMS BY WE, THE PEOPLE, SHALL BE A BROAD AND NUMEROUS GRASS ROOTS MOVEMENT BOUND IN UNITY AND INSPIRED AND MOTIVATED BY SINCERELY AGREED  GOALS AND PRINCIPLES..
AS FAR AS THE GLOBALIST TYRANNY IS CONCERNED, OUR PURPOSES ARE NOT TO "STOP" THEM.
THE PURPOSE IS TO BRUSH THEM ASIDE BECAUSE, LIKE THE TWITCHING CORPSE OF A DYING DINOSAUTR STREWN ACROSS OUR PATH,  THEy ARE GETTING IN THE WAY OF HUMAN ADVANCE.
SO TAKE A LOOK, VISIT THE SITE AND SEE HOW IT GRABS YOU
And here, by way of an appetiser, is an excerpt from the site.
MW
Awakening to the fact that a simple virus could be our downfall, through blind obedience, collusion and abject ignorance, might be a hard pill to swallow.
Many could click away in denial, accusing these pages of being conspiritorial, over dramatic and fear mongers of doom.
For your own and our children's future, pause, listen and maybe learn a little more than the belief this is the biggest global health emergency  to confront us.
Understandable to refuse to accept you are being traduced, as propaganda, fake news and taking over your mind is a tricky and often invisible enemy. Yet it would be criminal to deny truth oxygen.
Truth hurts when denied. Maybe for your sake and all those you love and have ever loved – Listening, wise up and learn are the most essential actions to take at this moment. The crisis we face today has everything to do with what is planned, presently formulating and executed under the guise of a 'faux' pandemic. Call it what you will, it is distraction, diversion and division  on steroids. Real lives are being slaughtered as you read this, across the globe. The Agenda planned never cared for you, never will. Interested only how much each of us can be milked, used and become the instruments for them to accumulate even greater wealth.
In order to comprehend the depths we are being played, these pages are a continually growing resource of intelligent discussion, expertise and professional insight from across the spectrum. Many diverse fields represented, expressing their concern, conveying as best as possible to those, still stuck in the headlights leading to a fascist, totalitarian, authoritarian, globally controlled future.
Now is not the time to get distracted by the flotsam and jetsum they pour out through the mainstream. Now is the time to disseminate truth from fiction, truth from lies and peace from war – the war ofor your minds. Lives matter, every sentient life. Do not consume your attention on distractions – they want you to. Our planet absolutely matters. It is our life line, our Great Mother. Those exploiting it and us, need to be brought to book, halted and dealt with, before any meaningful, collective healing can take shape. We humbly hope the information presented here will inspire each of you to do what is needed, take back your power and stand tall within the family of humanity, for the best future for us ALL.
It requires drawing away from the web you are trapped in, open eyes and ears, listen, clear your mind and everything you have learned, been taught and told. Educate yourself and see the truth presented here by those refusing to buy into any Official Narrative. No Mainstream Media will feed you this info, no 'bought' experts, government allied teams and corporation interests will feed truth. It is all agenda, agenda, agenda for any means towards their ends.
DO NOT  TAKE MY WORD FOR IT, LISTEN TO THOSE FAR BETTER QUALIFIED HERE, then go here and start that education. 
There literally is NO TIME TO WASTE
---
The People's Media
Media of the People, by the People, for the People
UK RELOADED THE LIBERTYBEACON WE FIGHT BACK LIBERTY RISING
EUROPE RELOADED TELEGRA.PH DAILY SCARE WEBWIDE NEWS