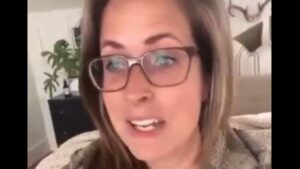 An Instagram social media personality, known as the 1776 wife, revealed that COVID-19 vaccine providers are paying social media 'influencers" who have large subscriber audiences to hawk their vaccines. The pay-to-propagandize scheme offered to pay her $1300 to market the vaccine in three steps: sharing excitement about taking the jab or preparing to be vaccinated, sharing videos and images relaying what they're most looking forward to doing after getting the shot, and finally encouraging followers to share what activities they are hoping to engage in after vaccination. The narrative that people can get "back to normal" after more individuals are vaccinated is a farce because people who have taken the vaccine are told to continue wearing masks and socially distance. Last week, the Biden administration announced that it invested $3-billion in a "Community Core" operation meant to "provide fact-based messages into the hand of local messengers." Another influencer, toxinfree.tiffany, published a list of the billions of dollars in fines that have been paid out for fraud and damages by Pfizer, AstraZeneca, Johnson & Johnson, and GlaxoSmithKline. -GEG
A popular social media influencer shared a private message she was sent offering a cash payment if she promoted the COVID-19 vaccine to her followers.
"As a leading provider of the COVID-19 vaccine, (censored) wants your help in amplifying the social movement, raising awareness, and establishing a positive association for the COVID-19 vaccine," the proposal stated.
The message continued, "The goal is to promote an overall hopeful sentiment around things people are looking forward to once they are vaccinated (eg., hugging grandparent, a night out with the girls, going to a ballgame, a concert, etc)."
Once willing social media influencers upload their pro-vaccine content, the notice says, "You'll receive $1,300 via PayPal."
Excerpt:
Instagram poster toxinfree.tiffany published this list of drug and vaccine manufacturers that paid out billions for injuries and fraud: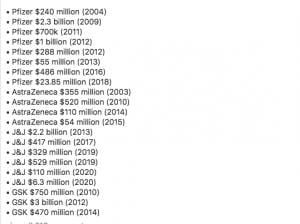 https://needtoknow.news/2021/04/social-media-influencer-exposes-covid-vaccine-pay-to-propagandize-scheme/